My beach portrait dress project was just posted at Brother's blog Stitching Sewcial. This is a tutorial, complete with pictures and detailed instructions.
It's a little late in  the season, but there was a change in servers or something so for more than 3 months there were no new posts.  Still, the Brother Ambassadors and writers kept sending in projects resulting in quite a backlog.
At last, my beach dress reached the head of the queue and is now posted.
Titled "Sea and Sand," the Imperial batiste dress is white with white lace, like the foam of  crashing waves.  It is trimmed with ecru entredeux, ecru feather stitching,  and ecru pearl buttons, the color of  beach sand.
This was a fun, learning experience for me.  I've wanted to make a beach portrait dress ever since my dear friend Judy Day attended a Lezette Thomason school and made this dress for her granddaughter.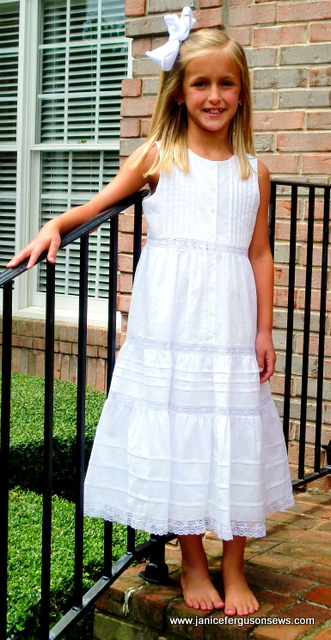 When the time to make one, I contacted Lezette.   Generous as always, she not only gave me permission to use the dress for inspiration but shared the notes for the beach dress class.
Of course, I modified the dress considerably and added at least one new technique.
One modification included adding tucks to the first tier of the skirt.  This added considerable construction time and if I were to make another, I think I would have left that tier simply gathered. Also, more tucks were added to the other two tiers.
You can see these as my granddaughter models the beach dress which is still too large for her.  I used CC Louise size 8, the same basic pattern I used for Vivi's Cruise Dress made  18 months ago.  Her mother declared  that she wore a size 8 then and the dress was too large. I thought given 18 months of growth it would fit her now.  But in 18 months she only grew longer legs.  The armholes still gap. I plan to take an underarm tuck for a better fit.
The new technique was using the white edging for insertion.  Having many yards of this edging, including the matching wider edge which I could use for the hemline, I wanted to use it for insertion.  In a future blog, I will give detailed instructions on how this was achieved.
Vivi loved the dress and loved hamming it up for the camera as she modeled.  We were vacationing in the NC mountains in an area famous for its white squirrel population.  The ceramic squirrel is just a prop, a "resident" of the wonderful back deck where I spent a lot of time smocking.
Maybe next summer when the dress fits her better we can take a real beach portrait with this dress.  But isn't she fun?
Required disclaimer:  I am a paid Brother Brand Ambassador.  Not required:  I LOVE my Brother sewing/embroidery machines!