Once again I share with you an upclose and personal view of Judy Day's delightful creations  for her granddaughters. She never makes "a dress." It's always a complete ensemble for each of the two girls and their dolls, usually including matching hairbows for all and often coordinating flip flops.
Though the idea for rickrack smocking is not Judy's original idea, her execution is always original and fabulous.  Enjoy Judy's chronicle of the dresses.~~~~
Last year, when I realized the little grandchildren would be together at the beach, I saw a photo opportunity.  When we got to the beach, the girls kept saying, "You mean we can get in the water with our GOOD dress on?"  I assured them that it was just salt water and the dresses would wash…..in the end, the dresses did get wet and sandy and no one got in "trouble!"
Other beach goers have been edited out of the pictures, but there were several people watching them play and pose.  So if you get the opportunity, take you g'children to the beach wearing their "good" clothes and then stand back and watch.  It made for a full heart!  NOTE:  Most of our photos from that day were not posed and those are my favorites.
I went to my "resource center" (aka my stash) for the fabric.  I had pink gingham, but in different shades…..I had promised myself NOT to purchase new fabric until the "stash" was sewn.  So different shades of pink it was.
Jackson's shirt, made up from many blue and white stripes and blue gingham, was purchased. It compliments Kennedy and Courtney's dresses well in the pictures.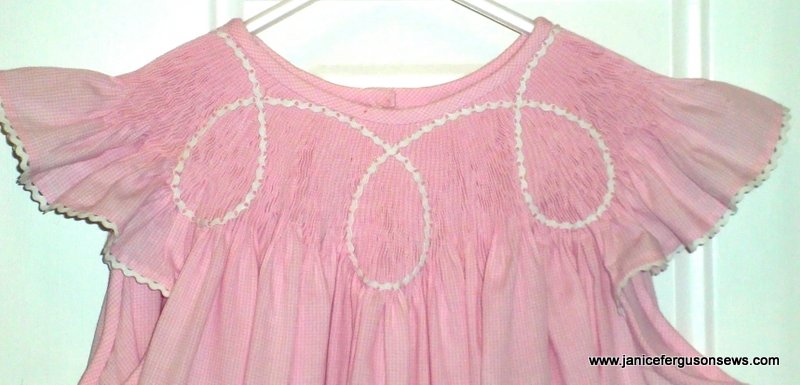 The  Sew Beautiful version of this dress was featured in Issue # 130, 2010, Vol. 24, # 3.  The article, entitled Rickrack Bishop, is by Cindy Hayes.
I knew this would be my last shot to smock bishops for my granddaughters since they were getting so tall.  I used Children's Corner pattern Gwen's Ruffle Sleeve Bishop. The smocking for this dress is all back smocking.
As I was smocking, the girls were more interested than usual, so I jumped on the opportunity to let them smock for the first time.  They were excited and tried very hard to put the stitches in just right.  I wanted this to be a positive experience (and since it was not going to show) the stitches were deemed beautiful and laying just perfectly!
At the last minute, I decided the dolls needed matching dresses.  I altered Debbie Glenn's Bitty Bishops, Bonnets & Booties pattern to match the girls' dresses.
The girls' dresses have loops of white rickrack placed over the smocking and held in place with pink French knots.  Who knew French knots took so long!!!  So the dolls have 3 rows of rickrack stitched by machine.
The techniques for the rickrack loops and the rickrack banded hem are outlined in the article and on the Sew Beautiful web site. ~~~~~~~~~~~~~~~~~~~~~~~~~~~~~~~~~~~~~~~~~~~
I love everything about the rickrack smocked bishops.  But I especially love the way Judy slipped in a smocking lesson when she recognized the moment of interest and readiness.   Keep up the good work, Judy!  I think the world would be a better place with  more smockers and more smocked dresses.  What do you think?