NEWS FLASH–Urban Threads is running a sale on their designs especially designed for glow-in-the-dark threads–$1.29 each with a neat bonus set that comes with a purchase of $10 or more.
That's just 8 designs. I finished these towels just about an hour before I found out about this sale. I had spent a lot of time searching my design library for files that would be suitable for glow-in-the-dark. Oh well. Children are crazy about this stuff. I look forward to stitching my new designs for the older grands.
A package of fun Halloween items will go out in tomorrow's mail to my two younger grandchildren. A fingertip towel for each child should make them smile. When the children were here a few weeks ago, they were so pleased to have embroidered personalized towels for their bathrooms.
Three year old Vivian Rose is infatuated with cats so the cat and hat towel is for her. Seven year old Alastair was equally infatuated with glow-in-the-dark threads when he discovered them during that same visit. So that is the fun factor on his towel.
It looks pretty ho-hum until the lights are out.
LESSON LEARNED: When dealing with glow-in-the-dark, areas outside the glow are best stitched in regular colored thread. The ghost mouth and nose were stitched with orange thread. That looks good. I mistakenly thought that having the ghost and skull eyes glow in a different color would give a great effect. Wrong. It would have been so much nicer with the lights on or off if I had used black or orange thread for those features. Live and learn.
UPDATE: After this post was written, I couldn't live with the Happy Halloween towel. I knew the fix would be easy. So the towel was rehooped and the scan feature on my Dream Machine was engaged. After the embroidered towel was scanned, the original design was opened. As it appeared on the screen, I dragged it over the existing design with the stylus.
After scrolling through the first few colors, I came to the skull eyes and then the ghost nose. They were re-embroidered with black thread.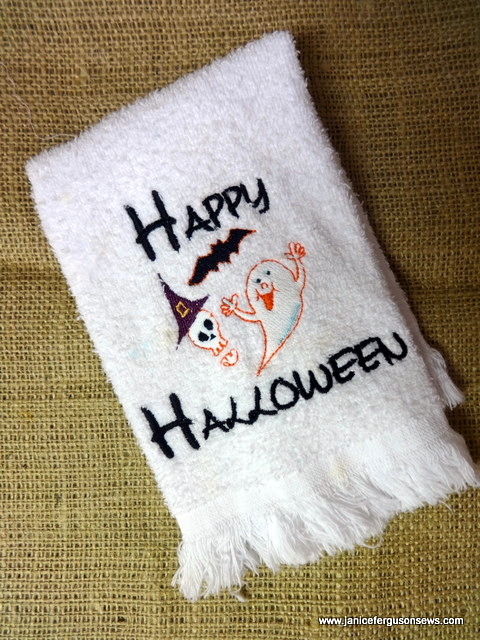 The fix took less than 3 minutes and towel looks much better in daylight— even better in the dark.
Restitching those elements of the design in black was a huge improvement.
Even more was learned on the next project, a pumpkin door hanger.