Quickie Hostess Gift
For our Bible Study group, we always have dinner, with the host and hostess providing the main course with others bringing the remainder of the meal. But for some unknown reason, dear Jackie graciously decided to offer a complete Mexican dinner to our entire group. No one else had to cook and that was certainly a treat.
Truth be told, a terrible storm took out my power for quite some time that afternoon, so I did not finish the embroidery before time to go. When I returned home, I was so impressed with the meal that I added the text to the design. It is Embroidery Library's Mariachi Clothesline.
I've always felt that situations like this require a gift which does not leave the recipient feeling beholden.
When I gave the towel to Jackie at church she was so very pleased. Of course, she is the kind of lady who would have been tickled with a decorative pocket package of tissues. At the fellowship hour after the worship service, she was showing it off and all the non-sewers, which makes up most of the congregation, seemed so amazed at not just the Mariachi Clothesline embroidery, but the personalization. It certainly takes a just a little stitching to make some people happy. And it makes me happy to see them happy.
So the next time you need a quick gift for someone you don't want to feel beholden, go embroider or stitch a dishtowel. That's my advice. Happy sewing!
And read on…….
This earlier post explains my feelings and opinion about dishtowels very well.
"Happiness doesn't result from what we get, but from what we give."
• Ben Carson
Ben, that's just one reason for my happiness. However, it's true that for any occasion– large, small or no occasion at all– I love giving gifts. But it can be tricky.
Too large or too expensive a gift like this jewel encrusted package or a trip to Paris for lunch would make a friend feel beholden and I don't want that. (Let me be perfectly clear, I would not give a trip to Paris for lunch.Or a jewel encrusted package. So don't ask.)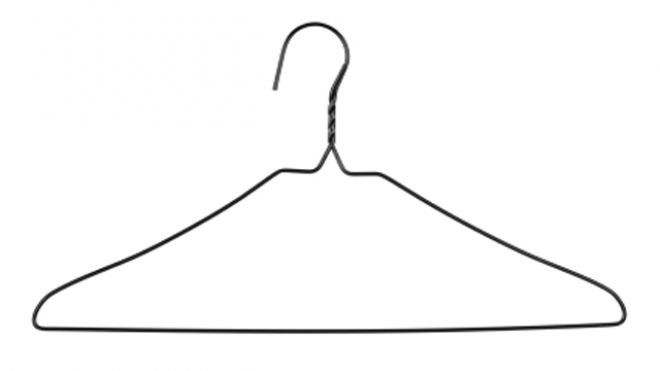 Too small a gift, like a coat hanger, is just tacky. Getting it just right takes some thought.
The design is OESD/ Embroidery On-line's Happy Birthday Frog. My design library includes the Bernina collection Fanciful Frogs. I have used those designs here and again and again.
As you can see, dishtowels are my go-to "little" gift. They can be personalized with machine embroidery (do you think my sorority sister Danilee ever got one of those bicycle license name plates or wall plaques?)
A novelty fabric turn tube hem or hand embroidery embellishment makes a towel special.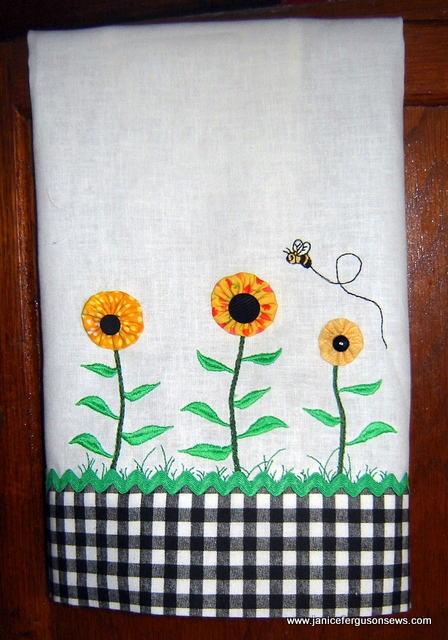 Dishtowels are always the right size, the right price. Even if the color is wrong they still dry the dishes.
In groups they make a substantial birthday gift.
The embroidery design set was done by Tracy Burkart of Needleart Studio. They seem to be unavailable now. It helps a quilter schedule a perfect week.
A recipe towel paired with a jar of jam was just the right size for each of my treasured PGM friends at our Christmas gift exchange.
When a very dear but far away friend was experiencing some serious difficulties, these towels offered daily inspiration and a reminder that I cared. Coordinated with a turn tube hem, the dishtowels were bright and cheerful. Designs are from Amazing Designs Inspirational Concepts. A dishtowel can give a very personal message for little more than the cost of a greeting card. It lasts longer and is useful.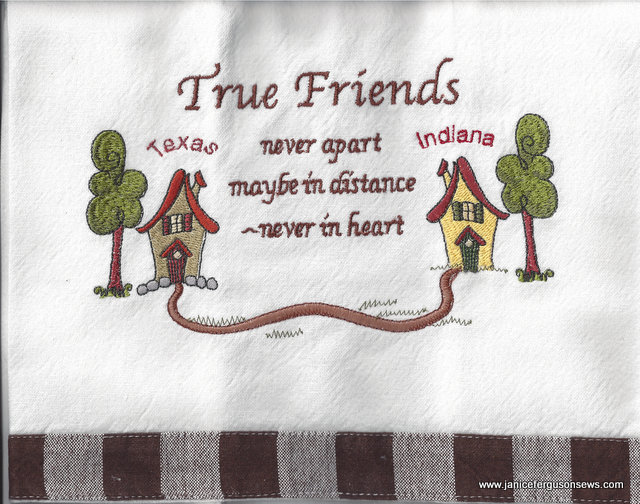 For another group gift exchange, Christmas dishtowels filled the bill.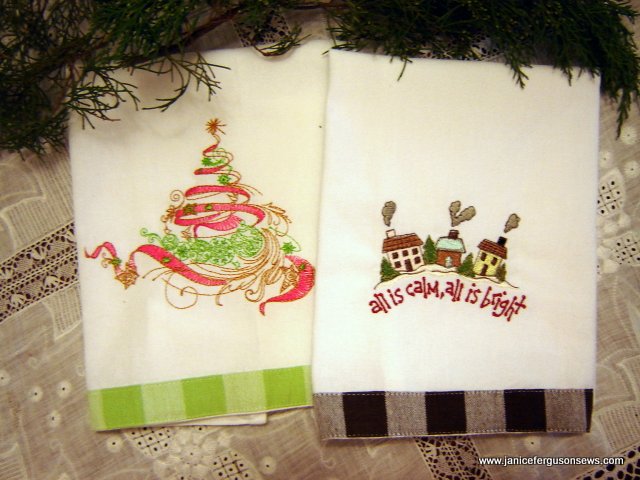 Well, there are more dishtowels, but I seem to have beat this horse to death. I get all wrapped up in remembering the occasion and the recipients. Can you tell I love dishtowel gifts?
.
""""`