My goodness but life has a way of keeping me busy and away from writing blog posts!  But I have been sewing.  Here us a sampling of some of my projects.
I found this heart headband slider as a freebie (for a short time only) for Valentine's Day at Tattered Stitch.  It makes up quickly and was a big hit with my granddaughter 6 yo Vivian Rose.  She wore it to the family's special Valentine breakfast and then to school.
It was so quick and easy to make that I made 18 for the little girls at church.  They were delighted.  This is just the first batch I made.
Then Aunt Rheeta made her annual pilgrimage to Florida to escape Indiana's bitter cold winter weather.  She sewed and sewed, making 10 mug rugs.  Unfortunately, I did not get pictures of all of 12, but she made a set of 4 hunting themed mug  rugs for each of two of her sons, one more feminine design for her daughter and one for her house/dog sitter.
Then she made these two for Joanne and Kyle, parents of precious baby Bea.  She said she has been praying for them since March so they almost feel like family.  She went to our Bible study group at their home and was so pleased to meet this lovely couple and spend time with darling Beatrice.  Kyle loves to hunt so one is for him and the fall print seemed to go well with Joanne's home decor.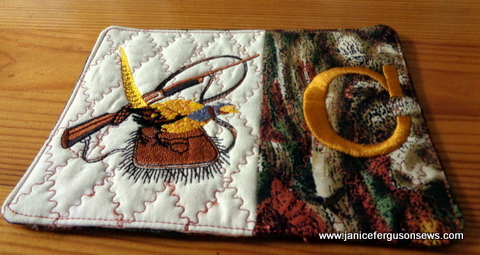 Continue reading →