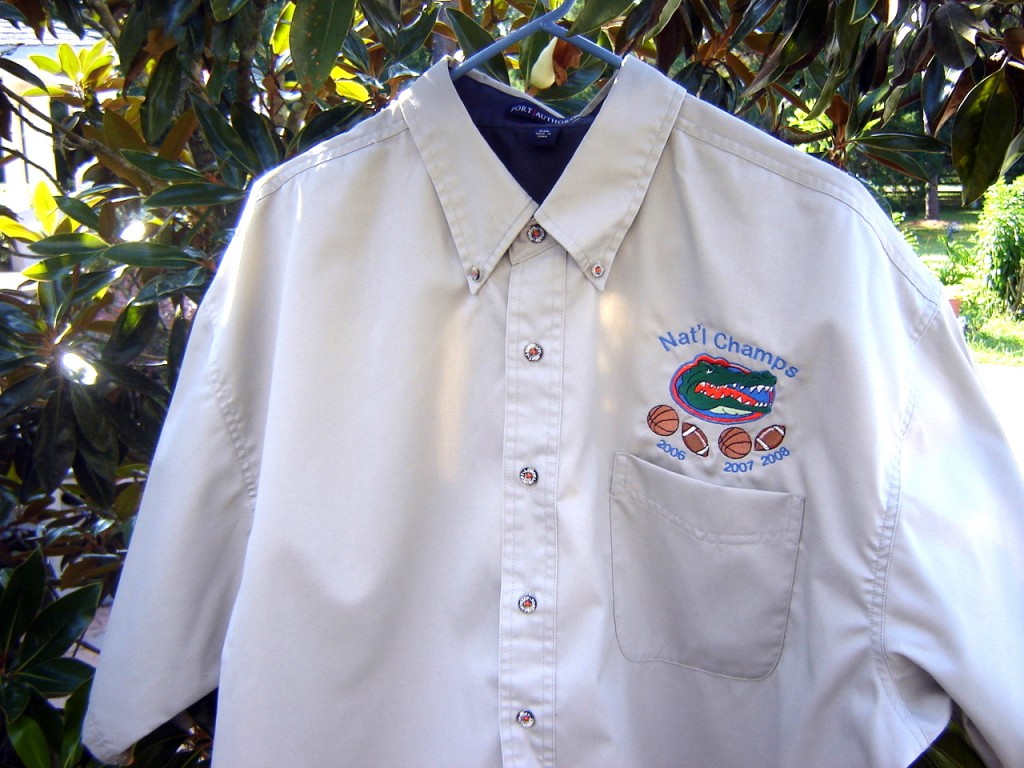 You've heard it before—our family loves the Florida Gators. Bbut that doesn't make us unique in this state, or any state for that matter.  The Gator Nation is huge.  Every time the subject of college sports comes up, more Gators make themselves known.
This was the case when I went to out-patient therapy for my first knee replacement  two years ago.  My wonderful therapist, Roger, not only loves the Gators but was himself a lineman on the team during his years in Gainesville.  He attends every home game, as good a fan as he is therapist.
He's a big, tall guy, size 3XL, a size unavailable in much of the Gator Gear line.  So I was pleased to be able to embroider a shirt for him, in his size. 
Time passes by…… new championships, new shirt stains, new knee….. and now I am back in  therapy with Roger.  Before my surgery, I expected that he would be due for a new shirt.  So I managed to pick up a few at the outlet store, which has 3XL shirts periodically.
The Gator design chronicles four football and basketball championships in three years.  I had a hard time trying to get the text "National Champions" in a font large enough to be read easily and yet small enough to arc over the Gator head.  Finally, abbreviations were the only solution.  As an extra touch, I have stitched the buttons in orange by simply zig zagging over the existing tan thread.
So when I go to therapy on Monday, I will bring Roger his new shirt.  And we will share our hopes and dreams for the 2010 Gator football season.  Go Gators!