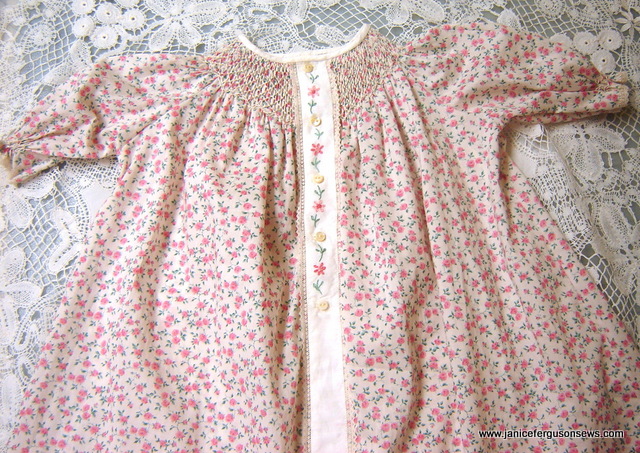 LESSON:  Haste makes waste…or dissatisfaction with a rushed project.
After my idle hospital stay, I was desperate to stitch.  But I was restricted for another week from driving or using my sewing machine, specifically from using the foot pedal.   As soon as I was home, I grabbed up the supplies for the daygown that I had planned while hospitalized and rushed to cut it out and begin smocking.
Pleater use was allowed, but I could not sew up the shoulder seams.  Ah, but I had heard about seamless pleating.  That should work.
Frankly, this  restriction seemed a little ridiculous to me.  But I had to admit that my cardiologist probably knew more about the healing femoral artery than did I.  Somewhat begrudgingly, I followed his orders.
A United Nations of materials was assembled–rosebud Liberty of London tanna lawn, ivory Swiss batiste, tiny French lace edging, Madeira Cotona thread made of Egyptian cotton, and a Children's Corner pattern from the US of A.  I couldn't wait to get started.
On her blog, the Southern Matriarch has an excellent tutorial on seamless pleating.  I was pretty excited about this.   As Martha points out in her tutorial, with practice you can usually nestle tiny French seams successfully into the pleater groove 3 times out of four.  Invariably, the one big fat seam that shows is at the front.  In my world, her statistics are spot on.
After reading carefully, I followed her method 1 instructions and thought I was ready to smock.
Oops…not yet.  Houston, I had a problem.
I have pleated and smocked enough bishops to clothe most of the children in the deep South from birth to 3 years.  And like anything you do frequently, I have my own routine techniques which suit me—-except, of course, for the aforementioned shoulder seam issue.  But they conflicted with this seamless pleating technique.
I always use a 1/2″ seam allowance at the neckline, run a machine gathering stitch 3/8″ from the raw neck edge and have the first pleater thread at the seam line, 1/2″ below the raw edge.  That first pleating thread is back smocked.  I do that first.  But not this time, I guessed.
Now, I was stuck. Not only could I not use the sewing machine, but I couldn't figure out how a gathering thread that jumped the space between the sleeves and body of the daygown could function?  When the seams were stitched, the gathering thread would be caught and the pleater thread for the backsmocking would also be trapped in the seam.
Like Scarlett O'Hara, I thought,  "Fiddle-dee-dee, I'll just worry about that tamarra."
The daygown was planned with an embroidered contrasting placket of ivory Swiss batiste.  So I could do the embroidery first!  Yes.  Did I mention that I was in a hurry to begin?
I pulled out my Belles and Beaus embroidery designs,  traced the flower and vine pattern onto the batiste, picked up a #11 John James needle and started stitching.   I'm not good at hand embroidery, but I do enjoy it.
Days passed with embroidering the placket, machine embroidering Halloween shirts for the grands and other back-to-life activities.  Finally, my no-sew restriction expired so the placket was sewn to the gown.  Too late, I realized that the flowers were disproportionately large!
About the smocking…it seemed like there was a lot going on with the print, embroidery, contrasting binding and all.  So I kept it simple. The smocking is worked with two strands of  ivory DMC floss in a simple one-step 1/2 space wave pattern.   As usual, I smocked deeper in the front and back than on the shoulders.  The lace is pinstitched to the placket and sleeve edges.
Well, blah blah blah, I fear this post is tedious to read.  In summary I will just say that I ran my gathering thread along the top jumping the open spaces,  had to hand tie the thread on either end of each piece and finally I finished it.
The invisible seams are wonderful–every single one of them!– but I have to find a way to blend this new technique with my old methods.
This is not the gown I hoped it would be.  But my sweet daughter hopes to dress her baby girl in daygowns every day for the first 5 or 6 months.  So this is a change of clothes, it is smocked, it is Liberty and she will appreciate it.
I only have 2-2 1/2 months before this granddaughter joins the family, so I am way behind schedule. But next for the next project, I will take my time and have fewer regrets.