Coming soon! Grandbaby Closet Sale–All those special items too small too soon or just plain outgrown need to go to a new closet  At least one of Vivian Rose's daygowns has never been worn.  Also coming soon (we hope), hair on her pretty head!
Rebecca, baby Vivian Rose and I are quite pleased with this little Pini-4.   The smocked skirt is Liberty of London and the machine monogrammed, self-lined bodice is hot pink microcheck.
There are no buttons or buttonholes, only ties at the neck, center back and underarms.   With a little careful planning or by following the pattern exactly (I just can't do it!), this super quick and easy pattern COULD be a joy to stitch.   So I neeeeeeded to add piping, sure and how about some  tatting–oh yeah!  And I wanted to line it with my preferred method rather than as directed.
But long ago I learned that if you are going to modify a pattern, you need to think it through before you go smocking and sewing willy-nilly.   I learned, but I didn't apply that knowledge.  So I spent a  ridiculous amount of time sewing and unsewing to get the piping in place at the proper time.
In fact, the area where the "armhole" yoke piping meets the skirt never did look right so I covered it up with yo-yo's, which turned out to be a pretty good idea anyway.   A larger Liberty yo-yo is topped with a smaller pink yo-yo turned upside down, to look like a button or flower center.  I chose not to use the little pink gingham covered shank buttons in my stash because of the discomfort Vivian Rose would feel as she napped.
Another step that took a lot of time was applying the tatting.  In order for it to stand up across the pink yoke, I had to hand stitch it in place along the top loops in the tatting. It was also hand stitched beneath the piping on the sides of the yoke.
Tatting on the skirt was joined to entredeux which was woven with green floss to mimic the green piping on the bodice.
Does anyone out there remember this 1981 pattern?  If so, you must be a mature Nana like me or one who started smocking in pre-school.  It has been in my pattern collection for more than 30 years and Vivian Rose's arrival has finally motivated me to make it up.
UPDATE:  This pattern is available here for $4.95.  I know nothing about this site but it does have the updated version (1983) with a color cover for sale.
It really is a dandy little pattern and solves many of my problems sewing for Vivian Rose.  Few contemporary bubble patterns are large enough to accommodate the bulk of her cloth diapers, so the two piece outfit works very well.  I used another, proven bloomer pattern so I could be sure it would fit.  Of course, as per her mother's request, there are rows of gingham ruffles across the back.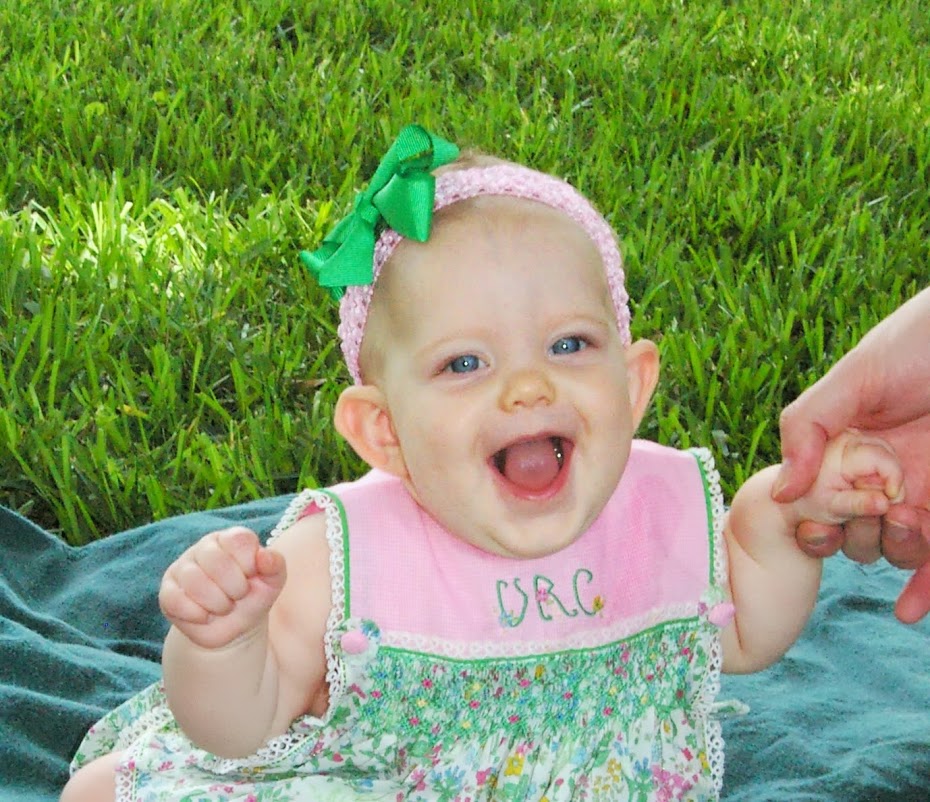 She does seemed pleased with the pini-4, doesn't she?  But more likely she is just pleased with her happy life.