What a fun project this was!  Disney's machine embroidery designs at iBroidery.com  reflect the awesome and  mighty protector Elliot who has greater appeal for today's action hungry youngsters.  While the '70's version featured  the sweet but goofy purple cartoon dragon Elliot, this 2016 dragon is the real deal.   See the trailer here.
The set includes an a stippled sundry bag for his toothbrush and personal grooming items, embroidered shirt and shorts pajamas set, and a pillowcase with a burrito/turn tube hem.  A drawstring makes it a tote for carrying all his gear to a sleepover.
The fun part of this design is the glowing fire spewing from Pete's angry mouth.  After the design was embroidered, I went back over that section with glow-in-the-dark thread.  The design is positioned so that as a child lays his head on the pillow, he is looking at the dragon.  In the dark, this is what he sees: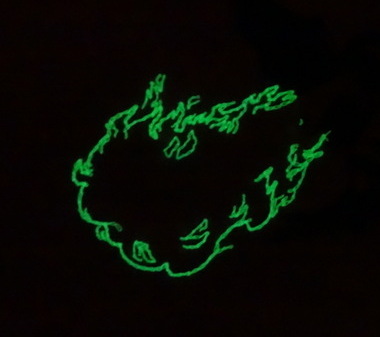 Each of my 4 grandchildren are fascinated and delighted by glow-in-the-dark embroidery.   Why not try it on this pillowcase/tote? Part 1 of the tutorial is now posted here at Brother's blog, Stitching Sewcial.