As Disney/Pixar's wholesome movie Cars 3 roared through theaters across the nation this summer, iBroidery.com offered a dozen beautifully digitized racing designs.  With so many macho characters associated with the Cars movies, Cruz Ramirex is truly the rising star of gender equality in the racing world.
This skirt features Cruz colors and embroidery. Fabric tutus similar to the one shown above are all the rage with younger girls.  I've heard of birthday parties at which each guest makes her own hula-type tutu.  One kindergarten class made these for an end of the year project.
Most of the quick, easy, and fun skirts are simply strips of fabric knotted over a circle of elastic.  Cruz's skirt is tutu Version 2.0, with less bulk at the waist.  It includes a casing waistband which captures folded strips rather than knotted.  It also features her personal embroidered crest at the center front.  The skirt is paired with a simple white tee embroidered with the equivalent of Cruz's business card.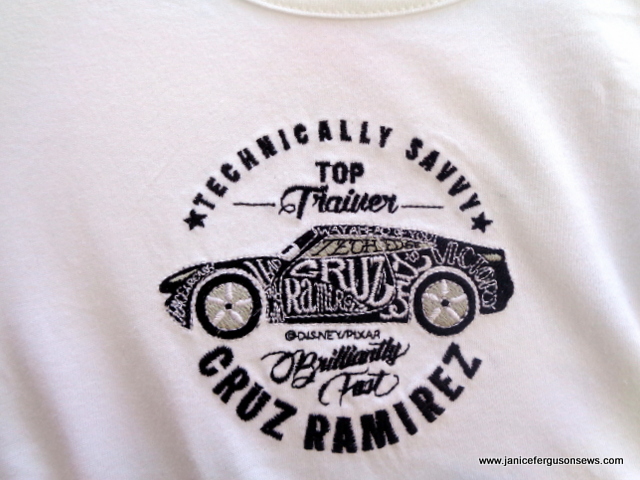 Detailed instructions for this less bulky skirt and more photos are posted here at Brother's blog, Stitching Sewcial.
For the boys a shirt and shorts were embroidered with favorite Cars 3 characters.
but the pictures are hidden somewhere on my newly restored PC.  I'll post when I locate them.  A brother and sister would attract a lot of attention attending the movie together.
For a little guy's bedroom this pillowcase, sheet and fleece blanket set were made.
The set includes a pillowcase with a turn tube hem, top sheet and fleece blanket.
For the bath, two fingertip towels featured the charming characters of TowMater and best friends Guido and Luigi. A band of the flag fabric was attached near the towels' hem.
If there is a young Cars 3 fan in your life, whip up one or more of these fun projects.  I'll bet you dollars to donuts that you will be rewarded with a big smile.
Though you need a Disney Brother machine to use these designs, the skirt could be made with any theme–or with any kid friendly fabrics.  The bedding, too,  could be duplicated with animals, sports or other themes. I can imagine this with a dance theme, given the twirl factor of the skirt.
Sewing for children is such a satisfying outlet for your skills and time.  Get yourself off to your sewing room and make something for a kid. You'll both be glad you did.