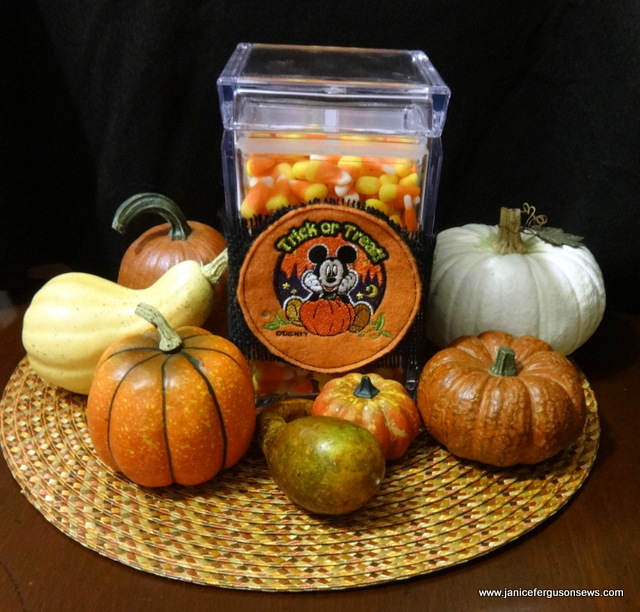 NOTE: This is reposted from several years ago, but still has some good ideas for quick and easy Halloween projects.  I hope you find something you like.
~~~~~~~~~~~~~~
Halloween has never been a favorite holiday of mine but our grandchildren get absolutely giddy with the fun it brings.  This year, I've joined in the celebration with sewing projects.
This candy jar was so quick and easy.   Our grandchildren are all big Disney fans so the iBroidery.com design with Mickey and the pumpkin seemed perfect.  It was embroidered on orange felt then glued to a fringed circle of black burlap.  The embroidery was glued to a strip of fringed black burlap  then adhered to the jar with double sided tape (one of my all-time favorite sewing notions).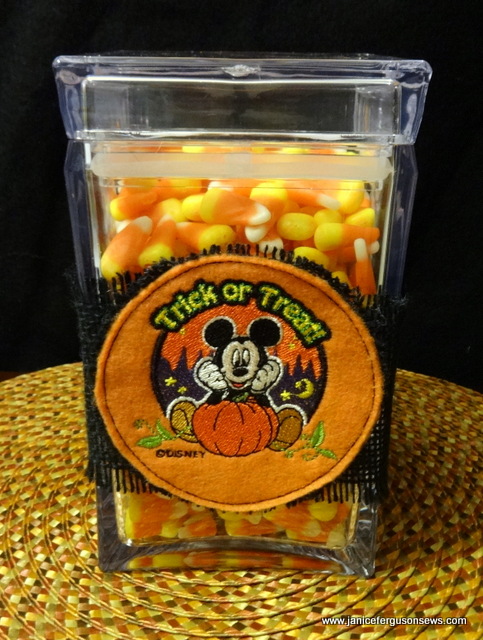 After Halloween, I plan to remove the burlap strip from the jar and replace it with a Christmas design and red or green burlap.
I expect that grandson Alastair, 5, will enjoy this Halloween pillowcase.
Again, the Mickey Mouse design was used along with purple bat fabric and orange grosgrain ribbon.  I liked the way the bat fabric has stars that seem to match the stars in the embroidery design.
Much as I love the turn tube hem technique, the way this one went together was even easier.  The raw edge of the folded hem bat fabric was lined up against the wrong side of the white pillowcase body fabric.  The two pieces were then seamed together.  The seam was pressed toward the white fabric, leaving no raw edges on the wrong side of the pillowcase.
Finally, with a glue stick, the orange ribbon was place to just cover the white seam line.  Each side of the ribbon was stitched down with monofilament thread.
I love seeing the delight in their bright eyes when they open the candy jar or go to bed with Mickey and the bats.  It is said that at Christmas the children sleep "while visions of sugar plums dance in their heads.  This Halloween Alastair will be dreaming of candy corn, Mickey Mouse and bats in a starry sky.
Have you made anything for Halloween?