It has been a wild ride in the time I've been out of the loop. After 5 days of Hurricane Matthew preparation, hunkering down with no internet, tv, cell or landline service and then clean up, we headed to Mayo Clinic.  My husband underwent a minor cardiac procedure, as if ANY cardiac procedure can be minor.  He's just fine, we're back home and now I'm back to blogging and sewing.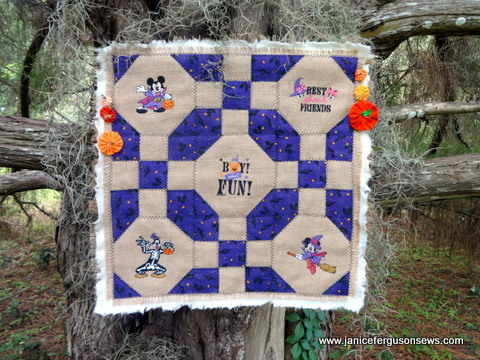 First, I want to share this cute, quick and easy Halloween faux-pieced wallhanging that I really enjoyed making just before Matthew made his unwelcome visit.  A complete photo tutorial is posted here at Brother's new blog, Stitching Sewcial.  The designs are from the new Disney Halloween Collection at ibroidery.com
There is still time to whip up this kid-pleaser for the increasingly popular Halloween season. Unlike corn stalks or hay bales, this decoration can be packed away for next year and more years to come.
Children love this, especially when they see Goofy's skeleton glow in the dark.
I especially like the yo-yo pumpkins that dangle from each side. Continue reading →