A daughter is the happy memories of the past, the joyful moments of the present and the promise of the future.~Â Author Unknown
This is certainly true of my daughter Rebecca, though she has alrealdy fulfilled all the future promises  for which I had hoped—and more.    This quilt holds happy memories of the past, some mine, some hers, some which she cannot possibly recall. 
Made in the traditional snowball pattern, this quilt is composed of alternate blocks filled with applique'd hearts.  Lace scraps from skirt fancybands and remnants of Rebeca's little dresses make up the bulk of the hearts.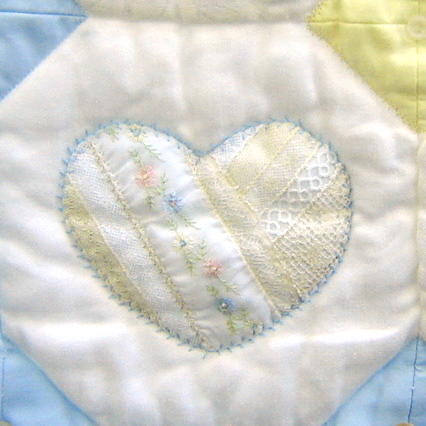 Each heart is attached with a machine sewn feather stitch.
As I look at each piece of lace or handloom or tattting or Swiss embroidery, I recall with perfect clarity the dress or nightgown,  collar or sleeve on which it was used.  Like most of you, I suspect, I deliberated long and hard over these trim choices.  Did I have enough on hand?  Would this ruffle hold up to the rough and tumble after church Easter Egg Hunt? Perhaps it is that lenthy deliberation that makes these associations so clear.
The white background of the blocks recalls memories from another era, before Rebecca's time.  The plain white damask on which the hearts are applique'd,  is from a set of her maternal grandmother's dinner napkins.  The leaf patterned damask is from a set of napkins that belonged to her paternal grandmother who died several years before Rebecca's birth.
Solid squares that set off the snowballs are scraps of Swiss batiste from Rebecca's heirloom dresses.  I can finger a peach colored square and step back in time to the wee hours before Easter morning, finishing up this dress.  I remember thinking that as soon as I had the ribbon run through the beading, all I had to do was hide 4 dozen Easter eggs and then I could sleep for 3 hours.  That's when the children would rush downstairs to begin their frenzied egg hunt.  Later, I would try to not to nod off during Easter dinner.
Mother of pearl buttons, no two alike, were taken from my grandmother's button box.  One rests in the center of each colored square and at the corners of the quilt.
These buttons and the button box are a special treasure to me.  The only other needlework remembrance I have from her is a cuss-ugly bow tie quilt top that appears to have been made from old men's pajamas.  During the Great Depression, many women sewed and quilted out of necessity, with what was readily available, whether or not they enjoyed it.   I don't think my dear grandmother was one who enjoyed it.
The strippy border is like a scrapbook of my sewing life.  Pieces I've purchased for their sheer beauty or in a long term hope for grandchildren, pieces given to me by like-minded, generous friends, pieces rescued from antique textiles…each has a story and a memory for me.
The lace ruffle is pure extravagance, creation of a frame worthy of some of my most special memories–memories of the past, memories of my daughter's childhood, and memories of my prayers for the future which have now been answered.
Maybe I'll start on another memory quilt for the grandmother stage of my life.  I have put away scraps from my granddaughter's dresses and the boys' heirloom clothes and someday soon might have lace scraps and trims from another precious grandchild.  Already I have a lot of new memories .