"St. Patrick's Day is an enchanted time-a day to begin transforming winter's dreams into summer's magic."  Adrienne Cook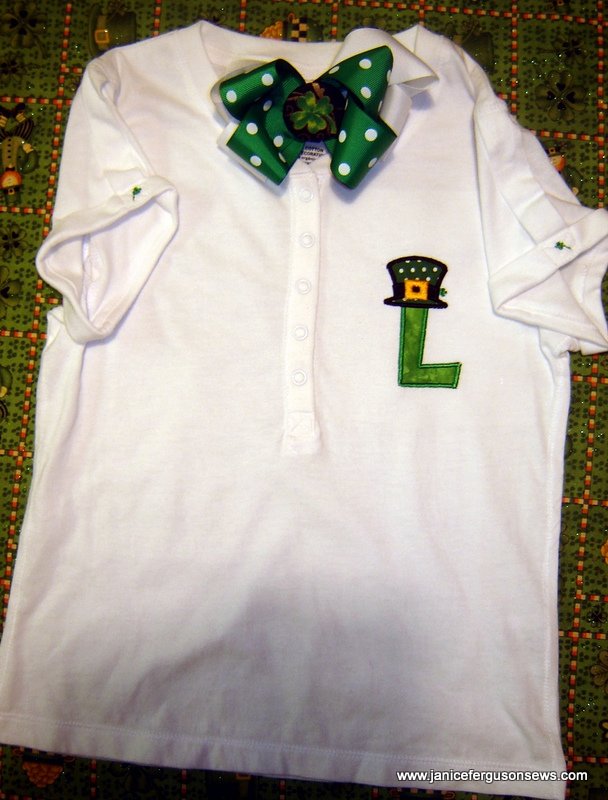 Though March 21st is the official first day of spring, March 17th is truly the harbinger of sunny days to come.
St. Patrick's Day is just plain fun.  Snakes are said to have been driven away by this popular saint and yet parades "snake" through town in celebration of all that is Irish.
The holiday implies no responsibility for candy or roses or gifts or greeting cards.  A celebrant's only duty is to wear green, The Great Equalizer that enables people of all nationalities to share a single ancestry for a day.  Of course, there are always those who take advantage of a situation and sport shirts or hats demanding "Kiss me.  I'm Irish!"
On this day, everyone of good humor is Irish.   Though the smallest dab of green on one's clothing implies participation in the day's festivities, it is more fun for children to dress for the occasion.
With Alastair's 2nd birthday coming up and his outfit and party favors to make, I decided to get St.Patrick's Day projects off my to-do list first.  Of course, I still have Robert's shirt and some pillowcases to make, but this is a start.
March 17 falls on Thursday, the regular meeting day for Robert and Laurel's homeschool co-op.  Mothers take turns presenting a lesson and it is likely that St.Patrick's Day will be the theme for the activities on that day.   Laurel will be wearing this shirt and hairbow.
The embroidery design on the shirt is from Lucky Alphabet from Planet Applique www.planetapplique.com  The tiny shamrock on the hat has been extracted and embroidered on the sleeve.
The hairbow is my first attempt at ribbon accessories.  It is pretty ho-hum and ordinary, but I expect to get better.  It is so much fun!
I purchased the excellent video lessons from www.learntomakebows.com and can't wait to make bows for flip flops, bags and more.  Laurel's hair cut does not lend itself to big bows, but I expect she will wear this one and enjoy others wherever I place them.
At least as exciting as the bows is the covered button  I made with my new button machine from www.hopeyoder.com  Nestled in the center of the bow, the fabric shamrock offers a pleasing contrast to the ribbon.
Neither of these projects took very long.  It's unlikely that either the shirt or the bow will be worn more than once or twice.   But for the small investment of time and materials, Laurel will be as cute as any little leprechaun when it's time for the "wearin' o' the green."