Lately, I've been in need of a variety of really fast projects, for a baby, a bride, a guy, a little girl and a young lady.  I know of nothing faster than starting with ready-made blank items.
I started with the baby gift.  Years ago I bought several of these blank bibs, bonnets and caps made of Aida cloth or with Aida cloth inserts.   You know how a technique strikes you suddenly.  Machine embroidered cross stitch–yup!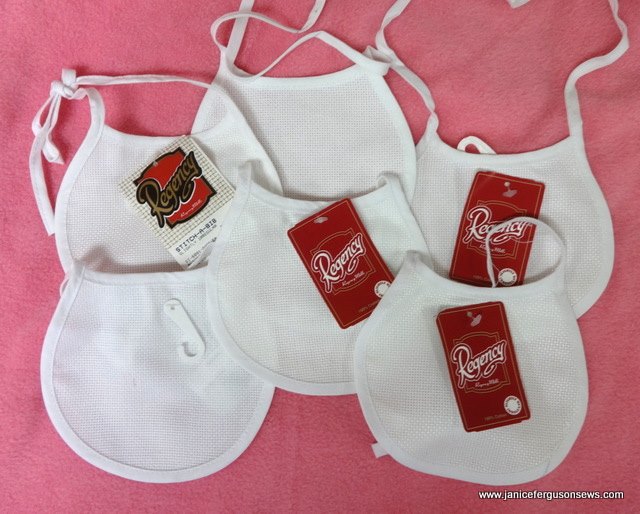 The plan was to embroider all of these bibs, bonnets and baby baseball caps.   But that didn't happen.  Oh, I did embroider several for the pregnancy center our church supports.  But I sold most of them for a pittance.
When the needs rolled in for these in-a-New York-minute projects,  only one plain white one bib was left, though I'd rather have had one with blue gingham binding.  Why does it always happen that you have things lying around for years, then once they are gone you need them ASAP?  Who knows?
Even with the cross stitch embroidery, the white bib was boring.  So I pulled out some spaghetti bias from my stash and stitched it right on top of the white bias binding.  I was generally pleased with this little gift.
It seems to me that cotton thread makes machine cross stitch look more like hand stitching.  So the bib was stitched with 50 wt. DMC machine embroidery thread.  I really like that thread.
Then I moved on to something for the bride.  A new but vintage handkerchief from my collection was just what I needed for a second project.   The linen, hand crocheted edging and hemstitching fit the bill for "something old, something new, something borrowed (well, it COULD be loaned), and something blue."  This was reeeeeally fast.
For the little girl gift on my to-do list, again, All About Blanks had just what I needed.  This is my go-to source for ready-mades.  The product assortment is huge, the quality always great and the customer service is as good as it gets.
A pair of terry cloth slippers with brightly colored embroidery was just the thing for this little gal.  With the toe flap open, they are sooooo easy to embroider.
For the young lady, this cosmetic bag from All About Blanks,  was just what was needed.
The blue and white seersucker looks so fresh and clean. A colorful embroidery design and a monogram makes it a nice, but not over-the-top gift for a young lady.  Sometimes, the gift needs to be small so the recipient doesn't feel beholden.  Other times, beholden is not such a bad thing 😉
While this was fairly quick to embroider, it required being turned inside out and stitched "in a cave."  I've learned that when embroidering inside out, it is best to place the design as high as possible without looking out of place.
This same technique was used on several larger bags which was much more challenging.  Stitching this gift has me yearning for the new Brother Persona, a free-arm, single needle embroidery machine.  That would make embroidering bags, onesies and so many other items much easier to stitch.  Hmmmmm….
But it's not all about the girls.  My quickie guy gift is a black jute koozie, again from All About Blanks.  Like the slippers, the koozie opens flat making for easy  embroidery and then closes with velcro.  Canned or bottled drinks stay cooler longer and hands don't get so cold.  Of course, it's football season (YEAH!!) so that guided my choice of designs.
The design was smaller than needed for the koozie, so it was nicely resized much larger on  my Brother Dream Machine.
What quick gifts have you made?  With Christmas around the corner, we could all use some new ideas.