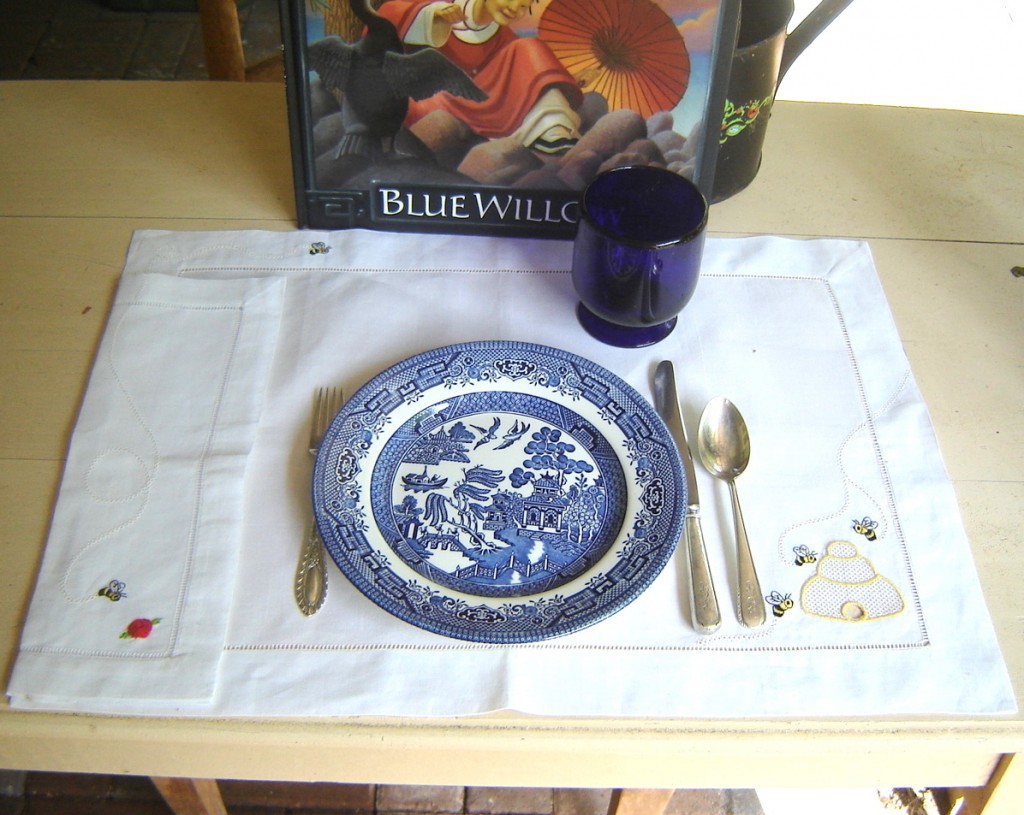 Yesterday, after a reader requested the free bumblebee design from this 2010 post, as shown on the placemat and napkin.  For a closer look at the bee scroll down to the napkin.
As I reread the post, I found myself  enjoying the stroll down memory lane.  Only the grandchildren have changed, having grown older, taller, a bit wiser and even more delightful.  The designs are still available by posting your request in a comment at the end of this post.
In Florida Spring is just around the corner and I am ready for it.  We've had cold, cold weather this past week (48 this morning!!!) during my Aunt Rheeta's visit.  She laughed when I commented that it couldn't be much colder in Indiana.  So with spring approaching, I thought you might enjoy this post which shows off the best of Florida's spring.
With the chill in the air, we are staying in, having a big time in the sewing room. Aunt Rheeta brought a stack of projects with her and we are busy stitching.  So this has been a busy, busy place for some time now.  I'll post photos of her projects later.
Meanwhile, I hope you are all busy sewing for spring and staying warm in this especially bitter winter weather~~~~~~
Grandchildren, sewing, gardening, homeschooling……..life is good for this old fashioned Nana. It could only be better if my sweet little grandson Alastair and his parents  lived closer.
A few days ago, the entire student body of Nana's Homeschool–that would be Robert, 4, and Laurel, 5–chose to have lunch in the potting shed.  This is one of my favorite places, second only to my sewing room.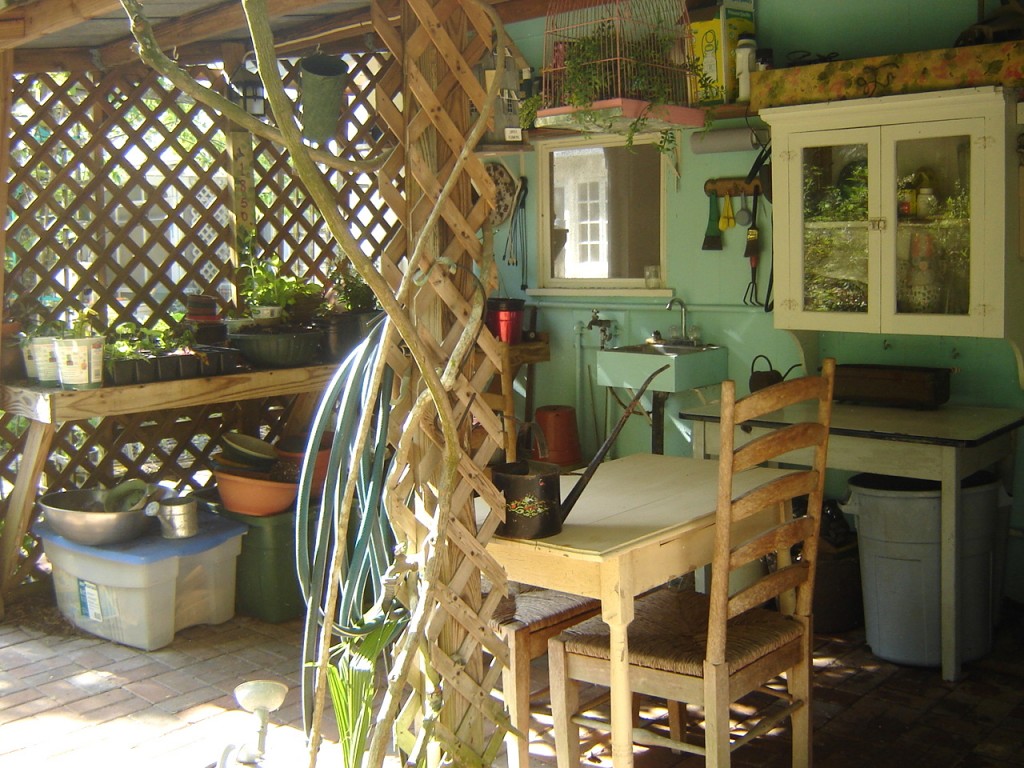 We made a big production of it, carrying out placemats, napkins, Blue Willow china and Laurel's favorite cobalt blue "stem ware."  The table was set and lunch was served.
 Here in central Florida, we are in that brief and uniquely enchanting time of year between air conditioning and heat.  So we've been eating outdoors often.
Citrus blossoms perfume the air, roses  bloom all around, a gentle breeze blows, birds sing and the lubber grasshoppers unleash their insatiable appetites on my amaryllis lilies.  Stomping the little beasties is Robert's favorite outdoor sport.
This is also the roses' favorite time of year.  When deep summer is upon them, they wilt and bloom less enthusiastically.  So they are especially lovely right now.  Forgive my boasting and allow Edward Lear to speak for me:
And if you voz to see my roziz
As is a boon to all men's noziz–
You'd fall upon your back and scream-
`O Lawk! O crikey! It's a dream!`
Edward Lear, 1885
When I am not teaching the children or preparing lesson plans, I am busy during the day gardening with Bob and sewing by night.  With all the freeze damage, we had more to do than usual.  Many of the plants I use extensively, like the lime green and purple sweet potato vines, have been unavailable until just this week.
Only a few hanging baskets were for sale, so I have whacked them into cuttings.  I'll have plenty already planted before individual plants are available at the garden centers.
But back to lunch and sewing…….because the bees are buzzing incessantly in the nearby 20' viburnum hedge which is in full bloom, I thought the use of this bumblebee luncheon set would be timely. The linens put the children on their best behavior and motivated Laurel to recite one of her memory pieces,
The Whole Duty of Children,  Robert Louis Stevenson,                                  A Child's Garden of Verses
A child should always say what's true  
And speak when he is spoken to,
And behave mannerly at table;
At least as far as he is able.
~~~~~~~~~~~~~~~~
After we talked about "mannerly"  and as they ate, I read to them from the Blue Willow book.  For the past 20 years or so, I've used Blue Willow dishes  for everyday.   The story interested them because of the dishes and our recent, though superficial, study of the  Orient.
Then cookies were served and, as was so often stated in the society page of our small town paper, a good time was had by all.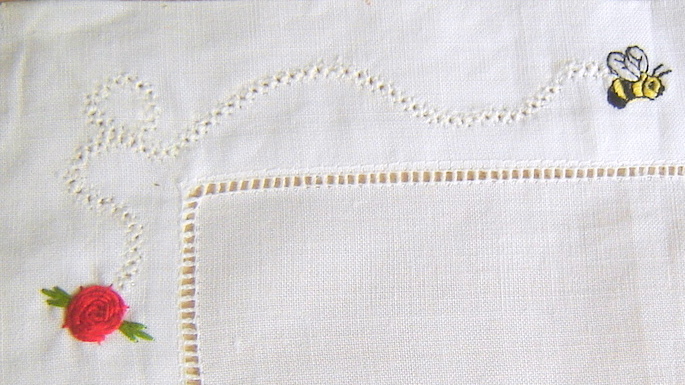 The placemats and napkins were embroidered with designs from Fil Tire' and Fancywork Elements, a collection by Suzanne Sawko and me. The hive uses a piece of fil tire' for the appliqué fabric.
The tiny bumblebees from Charleen Madsen are just the right size for the hive and rose. With Charleen's permission, I have offered this design to readers before and do so again.  Just post your request in the comments and I will send it out to you.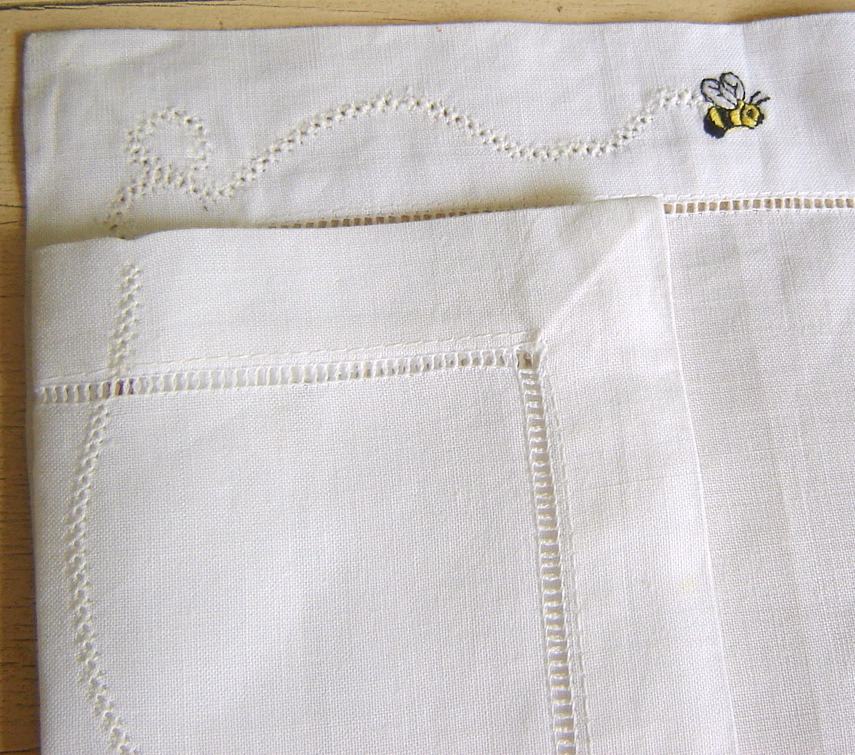 Machine wing needle entredeux traces the flight path of the bees, ending at an enlarged web rose from the same collection.
The entredeux path on the placemat matches up with the path on the napkin, ending at the rose. Once the napkin is removed, another shows on the placemat.
Spring in Florida is a glorious time. For as long as the weather holds up, we are lunching at the patio table by the pool, on the picnic table on the back porch, on the glass top table on the breakfast porch.
Next week, if all goes according to plan, we will lunch in the tree house.
It is equipped with a basket on a rope which is dropped down and loaded with snacks or drink, as the occupants request.
For that dining experience, the menu necessarily will be simple, peanut butter and jelly sandwiches, apples, cookies and  juice boxes, served on an old quilt. Still, we will behave mannerly, as least as far as we are able. Life with grandchildren is so much fun!