Dear Readers,
I am so excited to share my big news with you— I have been invited to be a member of Brother's new  Stitching Sewcial   blogger team.  Humbly, I join several expert celebrity sewists who have packed the blog with inspirational projects, tutorials and videos on topics from quilting, serging, sewing, embroidery, and more! On this site, I am in some pretty esteemed company!
Two of my projects are posted now, the first of which is the Ariel sleeping bag for 18″ dolls such as American Girl.  This would be a very popular accessory for youngsters who want comfort and style for their dolls.
The second project is a Zootopia themed knapsack.  It was such fun to read and familiarize myself with the movie. I needed to know something about this Disney cartoon delight to stitch.  Before the movie was released and after some research, I came up with a handy bag for the junior crime-stopping deputies of Zootopia's police department.
The designs for each project are available at iBroidery.com.
These Stitching Sewcial assignments are helping me keep up with the grandchildren and what they are chattering about.  Do you know who Judy Fox is?  Officer Clawhauser? Chief Bogo?  Look them up.  The children will respect your in-the-moment savvy.  They will LOVE you if you make this knapsack for them.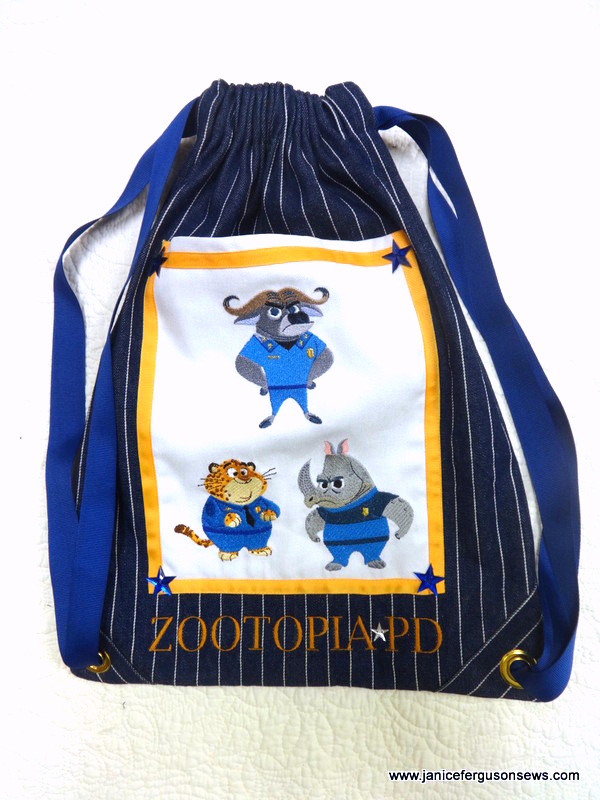 Each month another of my posts,  complete with a detailed tutorial, will appear as the machine embroidery post.  Working up projects and tutorials for Stitching Sewcial has keep me pretty busy for the last few months.  And I have loved every minute working on these Disney-themed assignments.
Please take a look at this new sewing venture.  If you have a moment and are so inclined I would reeeeeally appreciate any comments posted to Stitching Sewcial.