These Lenten paraments were made at the request of our pastor for our River City Church of DeBary.   The   purple fabric reflects the liturgical color for this season.
The embroidery is another beauty from  Windstar Embroidery Designs which has an enormous selection of spectacular liturgical designs.  This one is offered in two sizes, the smaller for the side-hanging bookmarks and the larger for the pulpit scarf.
Additionally, the cross drape, seen on the far right, was included in the set.  It is a 4 yards by 45″.  The set was hung the day before Ash Wednesday.
I've been sewing for many, many years and created a variety of items from clothing to quilts to home dec.  But none of this experience seemed helpful as I ventured into the world of stitching church paraments.  There are so many things that go into making what looks like a simple project.
As usual, I did a good bit of research for standard sizes, etc.  But nowhere could I find specifics on actually making the standard 3 piece set: pulpit scarf and two bookmarks to hang on either side.   Instructions for altar cloths, stoles, priest robes and other clerical garb are plentiful.  My on-line searches rendered only information for purchasing them.
I'd really like to take a tour one of the companies which makes the standard paraments, all of which are perfectly flat and hang straight.  I want to know the best fabric choice, the best lining,  the best stabilizer and all the considerations that go into making a worthy parament.
While I am not entirely satisfied with these. they are a huge improvement over my first set.  They were green for "ordinary" time, the period between special church seasons. Even after taking them apart three times in an effort to eliminate the rippling, they still were unacceptable, in my opinion.
This picture taken from the back of the church looks marginally okay.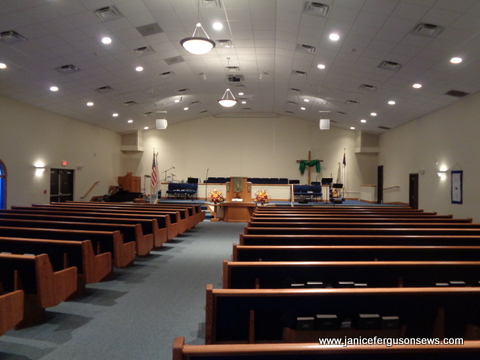 But when parishoners were seated in the front 3/4 of the church,  what they see is this up close image….shudder! Additionally, the large cross blocked almost half of the design, though it is not obvious in this photo taken at a bit of an angle.
They were made of silk dupioni and lined/interfaced/stabilized differently in each of my three painstaking attempts to fix them. They look like someone wadded them up for a pillow, though they were pressed absolutely flat an hour before they were hung.  I am embarrassed to show these, but hey, we're friends, right?
And we're trying to learn from one another.  So if any of you have experience, tips, advice or whatever, it is obvious from these photos that I could use any help you have to offer.  I would be so appreciative.
As soon as I finish a few more must-do's, I'll work on white paraments for Easter.  So send me any tips and advice you have.
Meanwhile, Christians, keep this in mind:
There's something about it that makes sense, Lent. You give something up, and everything's more joyful. Elaine Stritch