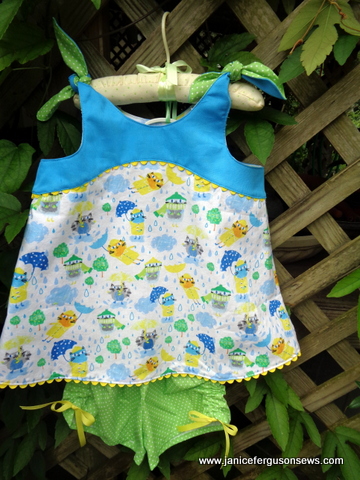 This adorable outfit which I call "Raining Cats" was gifted to me from my sweet friend Lisa at Mommy's Apron Strings. She knew my 5 yo granddaughter Vivian Rose is crazy for cats.  When Lisa saw his fabric and had new patterns she wanted to try, she whipped it for Vivi.
Ever so skillfully, Lisa coordinated the fabrics with the cats and the rick rack to come up with a uniquely intersting and kid friendly outfit.
The pattern for the top is  Pickle Toes Tulip Tie Top PDF 
The shorts pattern is  Cole's Corner Ruched Shorts. 
---
Read details about this wonderful gift here, at Lisa's blog.  You will want to visit it frequently because she has wonderful projects and ideas. And she is such a dear lady.  Lisa is also the administrator of Smocking Destash, a facebook group in which you would surely enjoy being a member.  Check  that out too!