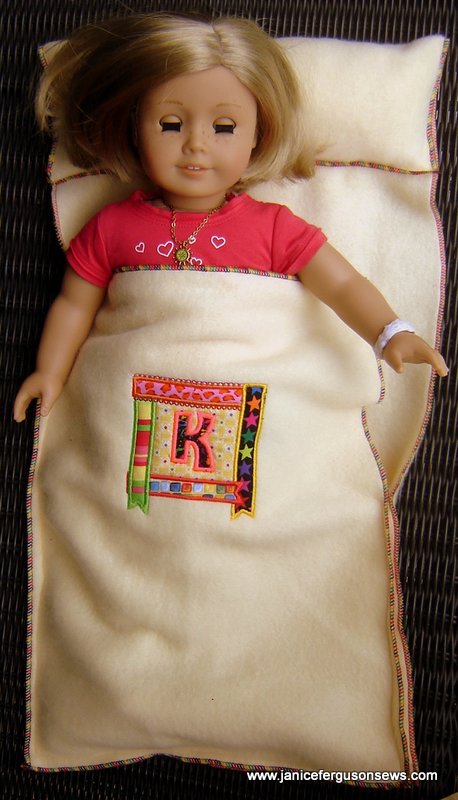 Grandchildren Robert, 5, and Laurel, 7, spent Friday night and all day Saturday with us.  As usual, it was a busy time with both children requesting a sewing project with me and shop time with their grandfather.
Bob finished a shop project with Robert, but Laurel is training for a children's triathalon and asked him to "train" with her.  In Florida's scorching July heat, they jogged and biked and twice went swimming with Robert.  Bob is a real trooper, but time (and energy)  ran out before he and Laurel made it into the shop.
I managed to do some machine embroidery with the little guy which I will post later.  The major sewing project was Laurel's, this doll sleeping bag.
Once again, at our house, Laurel's American Girls doll Kit was forced to spend the night in the nursery crib because the little doll cradle at the foot of Laurel's bed is too short for the 18″ dolls.   Laurel lamented  the doll bedding shortage everywhere.  At her home, she has the sweet AG doll bed decked out with bedding I made for her first doll, Molly .  But now that Kit has joined the family, "She has to sleep on the floor, Nana!"  Outrageous!
Last month, at our cabin, Kit again had to sleep on the floor, just as she had at a recent sleepover.  So Laurel thought this would be a very useful accessory for her new doll.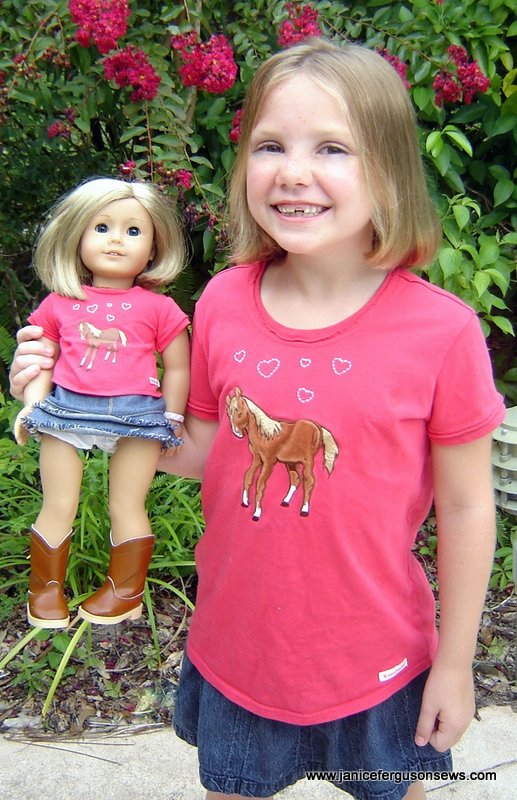 We decided to make Kit a sleeping bag.  Laurel selected yellow polar fleece, the monogram embroidery design,  Lulu Frame Alphabet  from Planet Applique, the fabrics and all the threads. She loves threading my Brother Duetta (or watching its motorized self threading mechanism),  sewing on it up and probably could have handled my Babylock Evolve.   But she likes a slower speed so I did the 3-thread narrow serging.  The upper looper was threaded with variegated jeans thread and both the lower looper and needle were threaded with red.
The pattern we made up is a simple and ideal  project for any little girl.  The edges of the fleece do not require finishing and the embroidery, of course, is optional.
Sewing with little ones is such fun and so rewarding.  If they only remember that you spent time with them, sharing your love of sewing and your love for them, the time is well spent.
Nonetheless, we always hope they will carry their new skills into adulthood.  Today, I had a joyful reminder that sometimes they do.  One delightful little girl who was enrolled in my sewing, smocking, doll making and quilting classes almost 25 years ago, now a new bride,  discussed her renewed interest in sewing on her  blog, A Cozy Litttle  Blog.   That just made my day and nurtured my hope that Laurel, too, will sew as an adult.
So here's how we made Kit's sleeping bag.  I hope you will sew one up with a little girl.
materials
polar fleece 42″ x 16″
small amount (approx. 2 handsful) of polyfil
optional:Â  serger thread and embroidery design
directions:
Cut fleece into two pieces, one 26″ x 12″ and the other 16″ x 12″.
optional:  Embroider 16″ x 12″ piece keeping in mind  that short sides are the top and bottom of the bag
optional: Serge all four sides of each piece
Fold top of 26″ piece down 4″, rendering a piece 22″ x 12″ for pillow.
Straight stitch pillow in place, through both layers of fleece, down one 4″ side and across the 12″ side.    TIP:  Pin Stitch 'N Ditch stabilizer under stitching line to prevent stretching.
Stuff opening with polyfil.
Stitch opening closed.
Place 16″ x 12″ fleece on top of larger piece. matching three sides and end without the pillow.
Straight stitch down 16″ side, across 12″  bottom, and up 10″ on third side.  This leaves a 6″ flap to ease sliding in the doll.
Remove stabilizer.