Courtney wrote a sweet note asking about Easter dresses I have made in the past.  For her 2 year old daughter, she is designing an heirloom confection for this same celebration.  She was curious about my granddaughter Laurel's earlier special frocks.
She was just 10 months old, crawling at lightning speed when her first Easter rolled around.  A bubble seemed to be the most sensible solution for a baby who spent most of her waking moments on her knees.  For details of this little outfit, headband and matching bib for Easter dinner, see the post Baby Bunny Bubble.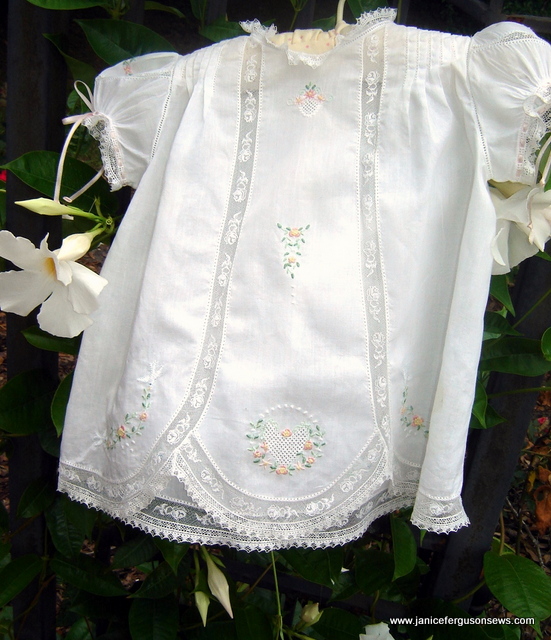 Laurel's first birthday was two months later.  She was toddling around, making it easy for me to justify making the heirloom dress of my dreams.  I absolutely loved making  this.  For details and more photos than you will want to look at, check the post First Birthday Dress.
For me, the matching slip was the finishing touch.
Her second Easter fell just a few months before our daughter's wedding, which was held here at our home.  So I was really rushed and resorted to a ready-to-smock white bishop.  It was modified significantly and coordinated with her 7 month old brother's bubble.
The puff sleeves were cut off to make an angel sleeve and Swiss trims were added.
Read more and see Robert's bubble here.
The next Easter, Laurel's family spent Easter at their cabin in the mountains of North Carolina, near Rutherfordton.  It was a casual Easter, so she and Robert were in matching mint green baby cord outfits.  I can't find the photos, but the pattern was a simple a-line jumper lined in peach microcheck with a minkee-like bunny applique on the front.  Robert wore a Jon-Jon of the same design.
For her 4th Easter, her maternal grandmother wanted to buy her Easter dress.  I mourned in private and took no pictures.
This is Laurel's 5-year old Easter dress.  By this time, we had 14 month old Alastair to coordinate with his cousins.  Yellow was the color theme with vintage Swiss handloom yellow ducks.  The boys wore yellow baby cord and were as precious as Laurel.    See the cousin group here.
The next year, soft aqua blue was the chosen color.  Laurel wore a sheer white Judith Dobson Tea Dress over a blue slip.  The boys wore  aqua blue baby cord shorts and white shirts with machine embroidered shadow work colors.  Poor Robert, with his skinny legs, was obviously too old for this outfit, but he wore it with good grace. It was to be his last Sweet Boy outfit.  See the group here.
Last year, Laurel's dress was my first attempt at shadow smocking.  I loved it and so did she.
Courtney, I hope these photos give you some inspiration.  In a future post, I will feature Easter dresses made by Judy Day and other readers.
Please share your finished Easter dress with us.  We'd love to see what you've made!