While it's unlikely that I am the only Nana or Mama stitching right down to the Easter Sunday deadline, it's nice to know that some readers are contentedly dying eggs, sampling gourmet jelly beans and buying chocolate bunnies.  Ahhh, I wish.
Courtney shared  pictures of TWO brother-sister sets that she has made for Easter.
Her daughter's first dress is cut from one of my all-time favorite patterns, Maggie  by Children's Corner. The smocking plate is Bunny Luv by Ellen McCarn.  I love that she mirror imaged the chocolate bunny on the dress so they are facing one another.    Her color choices are as  lovely as her smocking.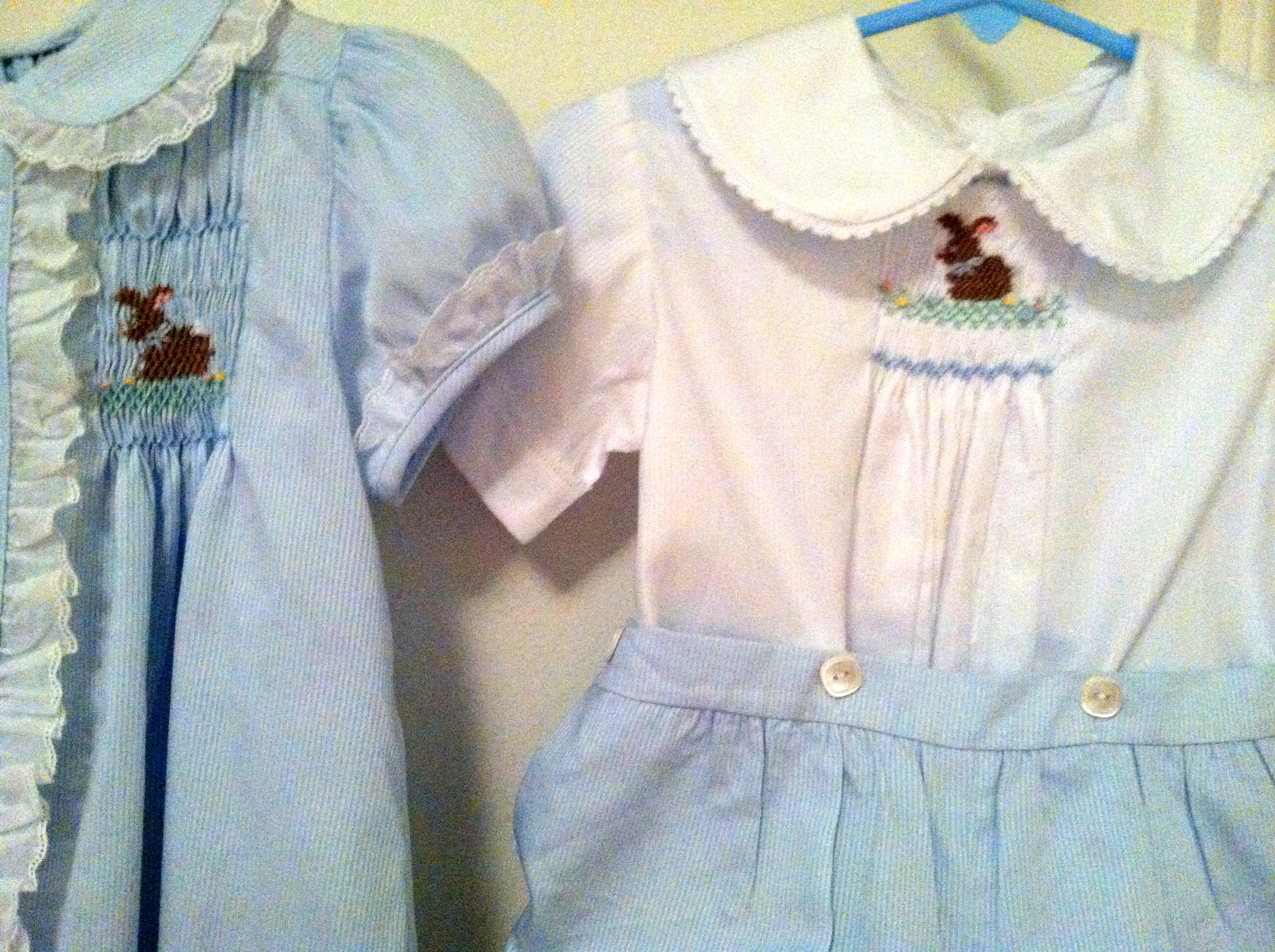 Courtney, what pattern did you use for your son's suit?  The shaped waist band is so elegant, especially with those gorgeous pearl buttons!
And look what she has made for church!
Portrait collars AND puffing!!!!  Two of my favorite heirloom features.  And such gorgeous lace.  These are just breathtaking, Courtney.  Thanks so much for sharing.
Jo always amazes me with both quality and quantity of what she creates.  Her five children will be coordinated, with the two little ones dressed in lavender corduroy, trimmed with a paisley print.    The family lives in Brrr Cold Country so she has planned for a chilly Easter.  And that's just what the weatherman has predicted.
Curly Girlie Noel, 5, is cute as a button in this trendy dress with some designer touches her mother added, like this cuff.
Just look at the zipper insertion and the perfectly aligned piping.
The other children's outfits, including ties for the two older boys and for their father, are in various stages of construction.  I can't wait to see them grouped together in a family photo.
Remember the shadow smocked dress I made Laurel last year for Easter?  Karen, at Karen'ts Butterflies and Fairies  posted a shadow smocked dress she made for her daughter years ago.  It is incredibly lovely.  The back is unsmocked, finished with a big sash, edged with mitred lace.  Soooo pretty!  Take a look at it here.
While you are there, check out her honeycomb smocked pillowcase dress, made to pop over leggings or jeans.  Laurel is almost 9 and would love this.  Karen has other really creative garments made from vintage linens that I would love to replicate.
It's back to the sewing room for me.  I'm about half way done with 10 week old Vivian Rose's dress and still have her bonnet and Alastair's  tie to make.  How are your Easter projects coming along?