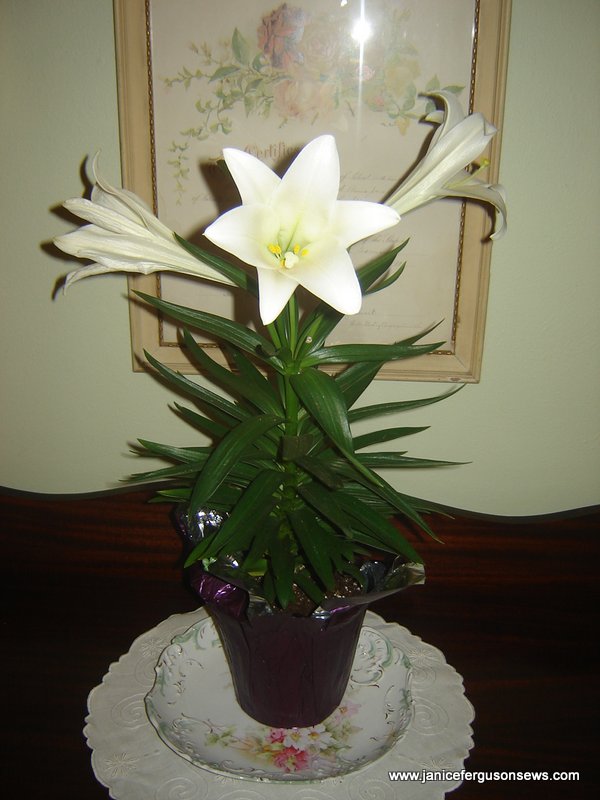 Robert and Laurel brought me this lovely, fragrant Easter lily. There are three more buds, so it will bloom for quite a while.
What fun family time we enjoyed this year as we celebrated Easter.  Our daughter, Rebecca, and her family arrived mid-week and our son, Ryan, and his family were with us all day Saturday, when we had our Easter dinner.
Saturday began with the Bunny Lunch at church, always a big hit with our grandchildren.  Approximately 75 children along with their parents or grandparents participated. The event began with an Easter craft followed by lunch.
Then there was a visit from an Easter Bunny helper.  It was so cute–the helper was costumed in a traditional fuzzy white bunny suit, but this suit has a cut out around the face which is meant to be painted.
The daddy who volunteered to play the part has two young sons who were in attendance and he didn't want them to be recognized.  Before he appeared, all the children were told that he had to swim here, so he wore a scuba mask.  Still,  his older son recognized him right away and was quickly hushed by his mama.  It's true that you can fool some of the children some of the time, but you can't fool your own children very often.
Next came the kid-pleasing egg hunt.  Our little ones were rabid hunters.
Then there were family photo shoots.
We rushed home to prepare dinner.  While the cooking went on, the children dyed eggs, decorated the Easter egg tree and put up the rest of the Easter decorations.  They loved each of these activities.
Ryan's family spent Easter Sunday with our daughter-in-law's family, so we didn't see Robert and Laurel.
Alastair was so cute in his big boy outfit with his sweater vest and bow tie.  The baby cord shorts are from his Easter outfit two year ago!  This little guy wears size 3 pants and size 5 shirts.
I made Alastair's tie, but I want you to know it did look much better earlier in the day before he had been playing in the treehouse. His parents loved the look of that tie and so did I.  Later, I will post a tutorial on how it was made, so quickly and easily and how to keep it from squirreling around as it did.  Now, Rebecca wants one for every holiday and I look forward to accommodating her.
I put aside the Madeira bordered daygown I was working on for Vivian Rose's Easter dress–that was a good decision.  When she and her family arrived Wed. I decided I'd rather spend time with them than spend time sewing.  Besides, she had never worn this daygown and the yellow smocking and fagoting on the lace coordinated nicely with Alastair's outfit.  I'll get back to the Madeira gown soon.
So was Alastair.
I hope you all enjoyed this Easter holiday as much as the Ferguson family did.
~~~~~~~~~~~~~~~~
Bunny Lunch sandwiches
From the comments and inquiries from the adults at this event, you would have thought that these simple little quarter cut sandwiches were made from some gourmet  recipe.  This is the second year I brought them and the response was the same both times.  I used 5 loaves of raisin bread so I am just guessing about the quantity needed for a smaller amount.
2 loaves Pepperidge Farms raisin bread (I like this because it is very moist, enabling you to make the sandwiches up a day early without getting stale.)
12 oz. Philadelphia cream cheese
grape jelly
16 oz. powdered sugar
1 teaspoon vanilla
2 teaspoons (about) milk or amount needed to create fairly firm frosting
orange and green food coloring
2 pastry bags, couplers, Wilton tips #4 and #8 (or any two round tips, one quite small for the leaves and the other larger for the carrots)
orange sugar sprinkles
Cut crusts from bread, 2 slices at a time.  Spread with cream cheese then jelly.  Cut in quarters.
Whip cream cheese, vanilla and milk together with mixer.  Add green food coloring to 1/4 of frosting.  Add orange food coloring to remaining amount.
Stuff frosting into the two pastry bags, with the small round tip on the green bag and the larger round tip on the orange bag.
I placed the carrots along the long side of the triangle sandwiches. Make one or two lines for carrot leaves near top of one triangle.  Frost each sandwich with carrot tops.
With the orange frosting, start at the base of the leaves and squeeze a line of frosting, lifting the tip near the end so the frosting comes  to a point.  Frost no more than 20 carrots at a time if you want to add orange sugar.  Otherwise, the frosting will be too dry for the sprinkles to stick.
Sprinkle orange sugar on carrots for extra kid-appeal.  Brush excess sugar from sandwich top with a pastry brush.  Voila!
Note: 5 loaves of raisin bread rendered about 100 quarter sandwiches.