UPDATE: Robert's spiral bound book, Football Frenzy, is now available.
Robert wrote every word, did the research and even typed this himself.  Finished before his 8th birthday, it includes a 7 year old's experience and appreciation for the game, as well as interesting quotes and statistics along with Robert's comments. It's a bargain for $5 + $2 shipping. Get your copy now before Amazon picks it up and raises the price!!
What a great time we had Saturday at the Florida/Arkansas football game in Gainesville!  Robert and Laurel's first tailgating experience was just about perfect.  A good win for our beloved Gators, good food, good family time, and good weather.  Okay, so it was a sunny 90 degrees, but there was a nice breeze and it didn't rain.  In Florida, that's considered good weather, but not great.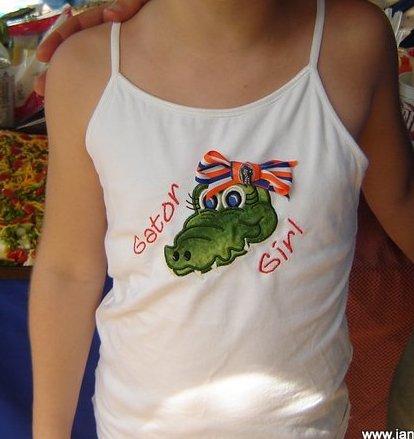 Sewing always seems to play a role in all the major occasions of my life.  I'm sure it's the same for you, whether it's party favors or decorations or gifts.
Robert's tie shirt was made earlier in the summer but Laurel's was made for the day.    Applique Corner  has many unique college teams designs, including the girly Gator head.  It even includes placement and attachment stitching for the 3-D ribbon bow.  The fabric just seemed perfect for the head.
In order to get a good tailgating spot, Bob and I arrived by 11:30 a.m. for the 7 p.m. game.   We weren't a minute too early.  Within an hour, there was not a parking spot, let alone space to set up a tent in the field.
For whatever reason, we couldn't get a tv signal.  So Gator Grandad packed away the television and all the gear he had brought along.   Fortunately we were able to check on the other games at our neighbors' wide screen tv powered by a satellite dish, all in the back of a pickup truck!   That's nice, granted, but I couldn't help but notice that their table had a paper tablecloth.
We had new tablecloths made for the occasion–sewing again.    Two yards of nice quality blue poplin and 1-1/4 yds. orange gingham check fabrics were both purchased for $1 py on the WalMart bargain table.   Quickly serged, they added to the party atmosphere for my enjoyment.  For $3.25 we had sturdy, washable table covers.  My husband would rather have had the neighbors' tv and satellite.  And I'm sure no one else noticed what we had on our table, though I finally gave  our eyeballing neighbors some cupcakes.
When Rebecca was a freshman, we first set up with three other hometown families at Norman Field because it was close to sorority row.  Our group had  three daughters there.  More of our children were enrolled at UF and they all brought along friends for free food–sorority sisters, swim team members, fraternity brothers, and any student from our hometown.  They were all welcome.   Some Saturdays we had as many as 75 tailGators.  After all of our students had graduated, we continued at Norman Field.  It is a really pretty, shady place to spend the day waiting for kickoff.
When Ryan and family arrived, we had a "lite" tailgate lunch that included sandwiches, my very popular cold veggie pizza  (see recipe below), homemade snack mix and team colored cupcakes.  It was just too hot to cook.
Shelly added some sides and a veggie tray so we ate and snacked pretty healthy, except, of course, for the cupcakes.
After the guys threw the football around, Laurel and Robert wore themselves out running through the tunnel next to our site.   With raised eyebrows, Laurel asked me quietly how those college kids  managed to paint the walls and not get caught.  The concept of permitted graffiti was hard for her to grasp.
Walking to the stadium, we passed band members readying themselves to enter the field in formation.  I love the band performances.
At the stadium, we enjoyed all the perks of the Champions Club and a private sky box, compliments of our son.  Our regular season ticket seats, which we love, are in the upper tier near the corner of the field.  But Saturday we had what grandson Robert calls "the fancy seats" on the 50 yd. line.  He and Laurel have watched many games from these fancy seats.
The food was amazing–plentiful, delicious and free.  At the tables heavy laden with salad fixings, cheddar mashed potatoes, corn, and more, three carvers sliced beef roast for sandwiches.   Cookies and ice cream were added sweetness to the 30-10 win.  All this in air conditioned comfort.  I could get used to this.
Huge flat screen  tv's were mounted everywhere with all the college games of the day.  The crowd went crazy cheering for Tennessee to win over Georgia, but in over time, it was Tennessee's  loss.  I sent my sympathy to Judy Day.
Before I had any interest in college football, Mildred Turner and I arrived the at the hotel where we were teaching at one of Martha Pullen's schools in Huntsville.   A  North Carolina game was on tv, watched by a sizable group of men.  She rushed up to them and asked for the score, the down, the quarter, the time remaining, and how about turnovers and injuries.  All in one sentence.  I just shook my head.  Now, I understand.
Do you have a college football team you follow?  I know Merry Gay loves her Mississippi Rebels, Judy Day loves the Vols, Millie loves her Texas Longhorns and Jo keeps up with Nebraska.  Do you  tailgate?  I'd love to hear about it.
College football is such a great family activity. Tailgating adds to the fun.  They next time you have such an occasion, in front of  the tv or at the game, you might want to try this recipe.  Maybe I should share it with the Champions Club chef and those who prepare the fancy food for the sky boxes.
Fresh Vegetable Pizza
2 cans crescent rolls or 2 packages ready-made pizza crust
1 (8 ounces) cream cheese, at room temperature
1/2 cup low-calorie mayonnaise
1 (1 ounce) package Hidden Valley Ranch salad dressing mix
1/2 head fresh broccoli, remove stems, finely chop tops
1 bunch spring onions with green tops, thinly sliced
1 small basket cherry or grape tomatoes
1/2 cucumber, diced finely
4 ounces (1 cup) grated cheddar cheese or shredded parmesan cheese
1.  Preheat oven to 375 degrees. 
2.  Spread rolls evenly over pan, pressing seams to seal.  Bake for 12 minutes until lightly golden brown.  Cool completely.
3.  Thoroughly mix cream cheese, mayonnaise and package/envelope of Ranch dressing mix.  Set aside while preparing and baking crust. 
4.  Prepare the vegetables by dicing finely, which will make slicing the finished pizza easier. Each vegetable should be placed in a separate container until ready to decorate the crust.  Slice grape tomatoes in half or slice cherry tomatoes into rounds the size of a nicke
5.  Spread cream cheese mixture over crust, right up to the edges.  This prevents moisture from the vegetables making the crust soggy.

6.  Over the cream cheese filling, evenly scatter the vegetables in the following order: cucumbers, onions, broccoli, tomatoes and cheese. Make sure that entire cream cheese layer is evenly covered with vegetables to make a decorative, multi-colored topping.
7.  Cover with plastic wrap and gently press vegetables into filling. Refrigerate until serving time. Cut into small squares of slices.
VARIATION:Â  Any raw vegetables may be added or substituted for those used above, such as olives, purple onions, celery, grated carrot, minced green pepper and diced summer squash.