These buttons are just sooooo sooooo neat!   When my friend Betty Ludwig (see her Shopping Girls jacket a few posts ago) told me about the button machines from Hope Yoder and how much she loved hers, I was intrigued.  Basically, these buttons covered with machine embroidery.
So why do you need a machine?  People have been covering buttons for a very long time, with nothing more than a package from the fabric department.  You don't need a machine, if you are simply covering a button with fabric.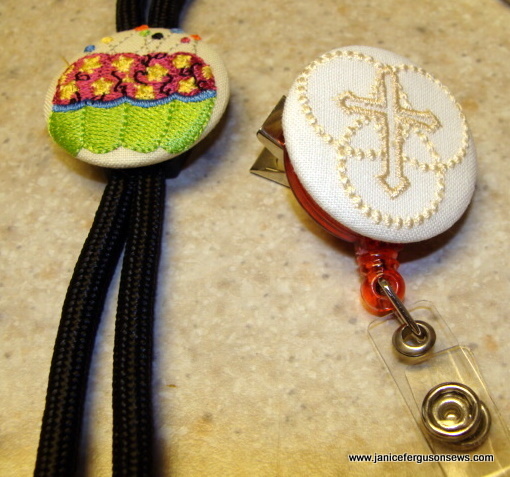 But if you want to feature a motif in the fabric, or more currently, a machine embroidered design, then you've got a whole different set of challenges.
The difficulty is centering.  And it is easy peasy with Hope's machine and her miniature embroideries designed specifically for buttons.
But what do you do with these embroidered buttons, I asked Betty.  "EVERYTHING!!!!" was her answer.  At Betty's insistence, I watched the video on Hope's web site  and my excitement built.  These buttons can be used on anything for anybody!   From key chain fobs to book marks to….well, just scroll through these photos.  Continue reading →