These buttons are just sooooo sooooo neat!   When my friend Betty Ludwig (see her Shopping Girls jacket a few posts ago) told me about the button machines from Hope Yoder and how much she loved hers, I was intrigued.  Basically, these buttons covered with machine embroidery.
So why do you need a machine?  People have been covering buttons for a very long time, with nothing more than a package from the fabric department.  You don't need a machine, if you are simply covering a button with fabric.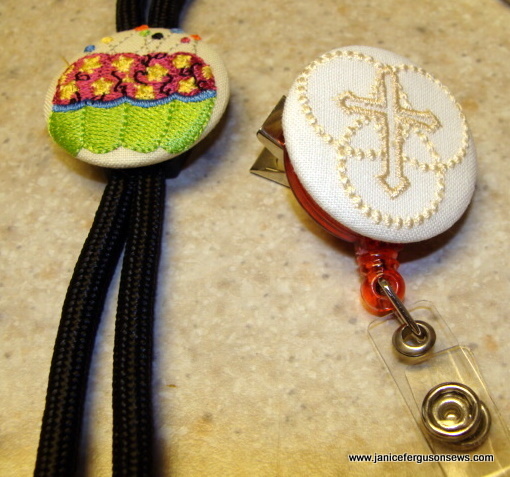 But if you want to feature a motif in the fabric, or more currently, a machine embroidered design, then you've got a whole different set of challenges.
The difficulty is centering.  And it is easy peasy with Hope's machine and her miniature embroideries designed specifically for buttons.
But what do you do with these embroidered buttons, I asked Betty.  "EVERYTHING!!!!" was her answer.  At Betty's insistence, I watched the video on Hope's web site  and my excitement built.  These buttons can be used on anything for anybody!   From key chain fobs to book marks to….well, just scroll through these photos. 
Not only do they make great gifts for all ages, from babies to seniors, they can be the foundation of a home based embroidery business.  In Hope's video, you see pizzazzy flip flops, topped with grosgrain bows and a monogrammed button.  How cute are they!  I could just see Laurel Cade prancing around this summer with a pair of these flip flops  and with a button in her hair bow.  And on Robert Charles' flag football sports bag!  Wouldn't my friends love a monogrammed key chain fob or book mark.  I can see a refrigerator magnet for Aunt Aileen.  And more…….
I was positively hooked and Bob wanted to get me one for Christmas.  I asked Betty what size she had.  "All three," she replied.  Wow!
Then she told me that she has been selling embroidered buttons like crazy.  With this machine and Hope's designs Betty has turned her passion for machine embroidery into a thriving home-based business.
My button machine arrived two days before Christmas.  But, alas, it sits unopened.  Between my preparations for Sewing at the Beach and tending to 89 year-old Aunt Aileen through two hospital visits and two other crises since Christmas, there has not been a spare moment.
So my button machine waits, calling to me.  But I have exercised incredible willpower and view it as my upcoming bonus for 5 days of teaching in Myrtle Beach.  I can hardly wait.  I'll probably get a speeding ticket on my way home!
P.S.  My machine is the 1 1/2″ size, the one Betty says she uses the most.