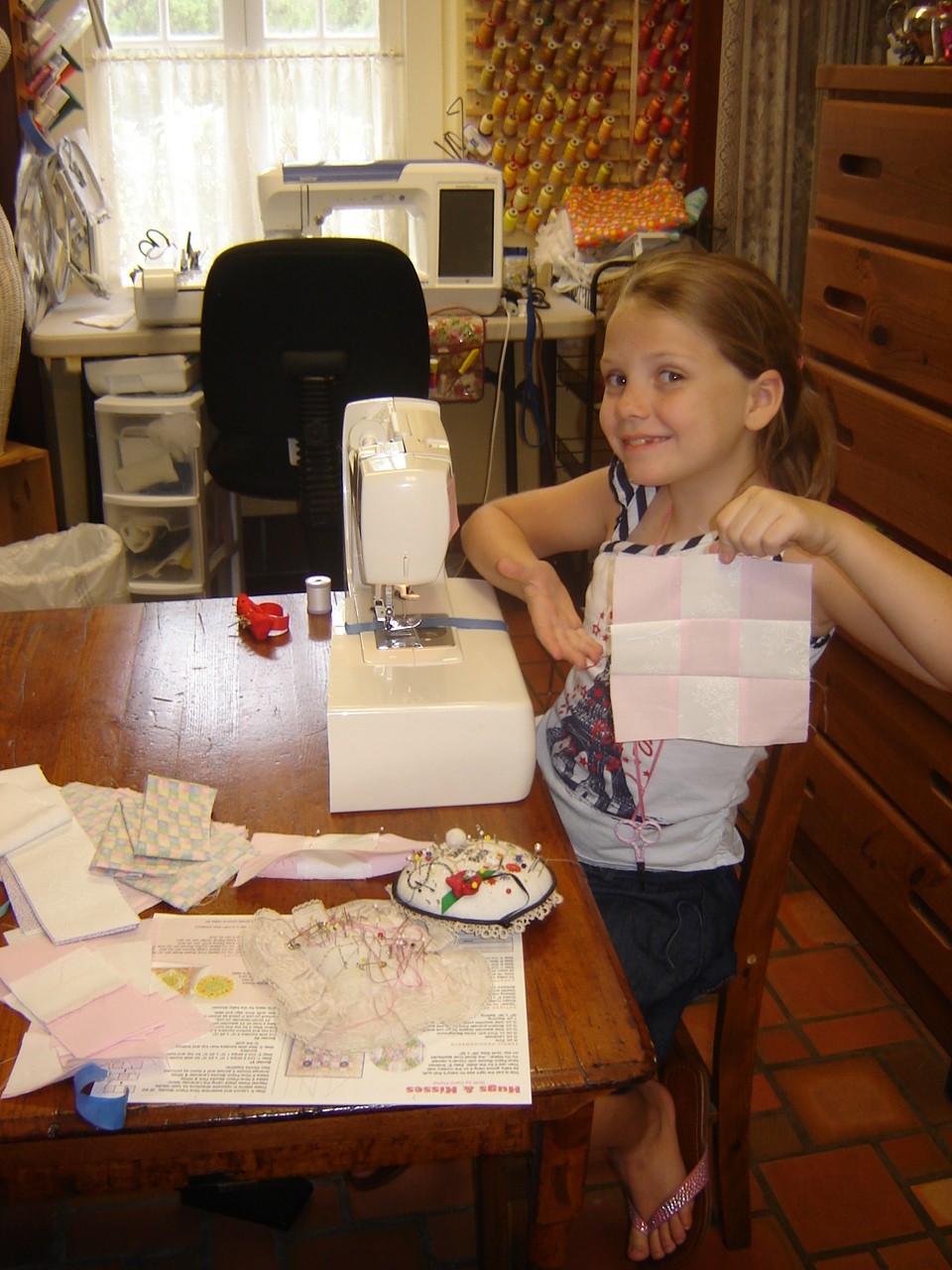 We're having a big time with granddaughter Laurel, 8, who is here for the week.  While brother Robert is at basketball day camp, she is here at sleepover Nana Camp, where there's a lot going on.
A new sewing station has been set up for her in my sewing room.  From here, where my cutting table, iron and all my equipment is located, to the dining room where she has sewn before, it's a  three day trip.   Her new spot is much more convenient. This is a permanent set up so she won't have to put her sewing away at dinner time.
The antique sewing table where her little Brother machine is perched was a birthday present from my dear husband several years ago.  See the "yard stick" printed on the table top?
It was meant to be used with a portable sewing machine sitting on top, so the table is rather low.  This is the perfect height for Laurel, so it is no longer necessary for her machine foot pedal to be velcro-ed to a step stool.   The  chair from the child size antique roll top desk in our homeschool classroom is a perfect fit.  I love it when my favorite  things have multiple uses.
Today, she started a sweet little quilt that she plans to enter in the November county fair.  Last year, she won Best in Show for her quilt, raking in 3 ribbons (best pieced quilt, Best in Class quilt, and Best in Show for all creative arts) and $40 premium prize money.  That is major motivation for an 8 year old!
The pattern was free with the purchase of the Clover oval yo-yo maker.  Today she pieced more than half the blocks and made four yo-yo's.
Last year's quilt required very little accuracy.  The strips were random widths with no specific seam allowance.  The blocks were cut after they were pieced on a foundation block much larger than the finished block was to be.
Though this year's quilt is smaller, it requires much more careful sewing.  She had to redo the seams on the 9-patches a few times, but her piecing skills are greatly improved.
She loves this little yo-yo maker and it's a good thing!  The quilt calls for 72 of these handstitched cuties.  But we are going to replace the center circle of 4 yo-yo's with one large one.   That reduces the number to 48.  Still……that's a lot of yo-yo's.
Another of today's activities was her first biscuit making experience.
She plans to enter these in the fair.  They are easy (3 ingredients!)  and absolutely delicious, crispy on the outside, light and fluffy in the center. The recipe is at the end of this post.
A few weeks ago, an elderly member of our church returned home from a lengthy hospital stay.  So I have been taking dinner to the couple on Wednesday evenings.  Laurel went with me two weeks ago and brought flowers she had picked from the garden.  Today, she was quite proud to bring her homemade biscuits.
After dinner, she had a night swim with Granddad and then was off to bed.  She was in Dreamland in moments.
It was a busy, fun, full day for both of us.  It made my heart purr.
Mini Sour Cream Biscuits (from allrecipes.com)

1 cup biscuit/baking mix (Bisquick)
1/2 cup sour cream
1/4 cup butter (melted)
In a bowl, combine all ingredients.  Drop by rounded tablespoonfuls into greased (or teflon) miniature muffin pans.  Bake at 425 degrees F for 15-18 minutes or until golden  brown.  Makes 12 mini muffins.  We made 1 1/2 times the recipe.  School is out for the summer, but that involved a math review of fractions.
NOTE:  I found this recipe on Pinterest and someone commented  that she didn't have mini muffin pans.   Instead she made 6 regular size muffins and they were perfect.