It's birthday time for our older granddaughter, Laurel, so I've been spending some time reminiscing about her birth and infancy. So here is a re-run of a post about her first birthday dress.
~~~~~~~~~~~~~~~~~~~~~~~~~~~~~~~~~~~~
Laurel was our first grandchild, and a girl at that.  Our son had been married for 9 years and our daughter was still a single career gal. After nearly 15 years of Granny Lust, mitigated only by gathering fabric, patterns and trims for my Grandmother's Really Hopeful Chest, I was ready to sew as a genuine Nana.
That first year went by so quickly! Smocked daygowns and bonnets, embroidered diaper shirts and onesies, monogrammed bibs and baby Gator duds flew out of my sewing room. It seems that for almost 12 months, I did nothing but sew and snuggle that baby.
As her first year drew to a close, I did manage to pull myself away from the enchanting child long enough to make her first birthday dress. Of course, it was made with my finest Swiss batiste, carved pearl buttons, treasured Maline lace and other hoarded trims.
The dress was made from a simple A-line pattern– which one I cannot recall. Perhaps it was from one of Nancy Coburn's books or patterns from Gingersnap Designs. She usually offers a sloper with suggestions for adding lace insertion, tucks, etc., turning the home sewer into a designer. I love her books, patterns and all of Nancy's things.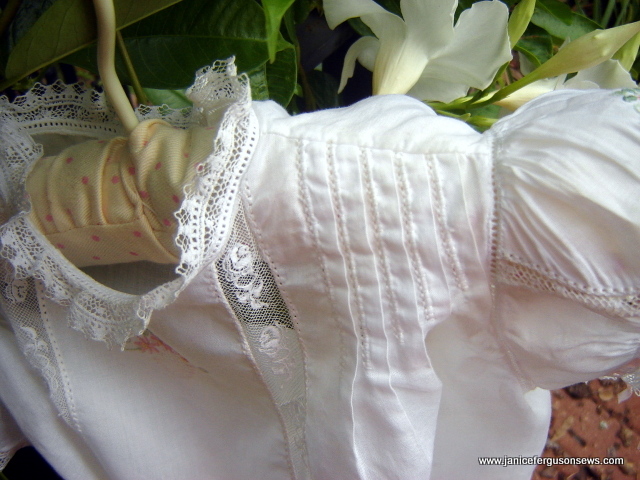 Five 1/4″ tucks were added to the shoulders, to give the dress some added fullness. The tucks were pin stitched in place, which was to be expected, given my penchant for hemstitching wherever and whenever possible. The lace insertions, too, were all secured with pinstitched.
The embroidery designs were taken from two of Martha Pullen's collections, Little Pleasures and Bullion Roses, edited, recombined and rearranged.
The puff sleeves are inserted with entredeux. Lace insertion is placed horizontally and pinstitched in place, just below the tiny embroidery design. Fancy entredeux is used for beading for the 1/8″ pink satin ribbon.
The arrangement of the 4-hole buttons and the embroidery between the buttonholes pleased me especially. I liked the way the carved pearl buttons become a part of the overall design, rather than just a utility closure.
Hand stitched French knots were worked in the holes of the buttons, as well as nestled in the machine embroidered flowers. My wise friend Suzanne Sawko always says that a little handwork in the midst of machine embroidery elevates the entire project. I have to agree.
The little slip is simple, buttoning at the shoulder and echoing the scalloped hem and embroidery designs on the dress.
As I look at this tiny dress and compare it to Laurel's strong, 6 year old body (12 years old now!!!!), I am reminded again at just how fast the time passes.