I loved embroidering this elegant set of table linens for Brother's blog, Stitching Sewcial.  Aside from the sewing details in the tutorial posted  there,  many "back stories" go with it that I just have to share with you.
First, I have loved these designs since I first saw them on my Dream Machine.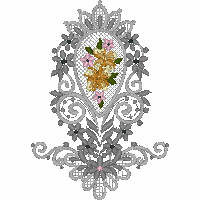 Like the design used on the quilted bed footwarmer, I was so eager to find the perfect project for them.  Then….I did!
THE LINENS BACK STORY #1:  BARGAIN!!      One day I came across this single gorgeous linen set in the clearance section.  The price was an enormous bargain, $15.99 for the 60 x 102″ white tablecloth with a hemstitched gray border!  Next to it sat two sets of 4 matching napkins, each for $6.99!!! (triple exclamation!!) The store was not crowded, but I snatched up those packages in a heartbeat and headed for the check out counter.  I love a bargain! Why they had not been sold I could not fathom.  I rushed home and planned this set.
HEIRLLOM CHINA BACK STORY #2:    My first thought was that these linens were a perfect compliment to my daughter's fine china, which had belonged to her paternal grandmother.  With 5 children and large family gatherings, the service for 12 was barely large enough.  The china had first come to me and when Rebecca was old enough to handle it, she had always loved setting the table for holiday meals.
For her wedding, I was able to purchase more pieces on-line, giving her a service for 24, which was used at the reception. Doesn't it go perfectly with her china?
I knew my long-admired designs had found the perfect resting place on these linens.  The  colors were tweaked just a little to match the colors in the china.
SILVER SERVICE BACK STORY #3:  The gorgeous 12-place sterling flatware was gifted to Rebecca by her doting godmother, Karen.  In the late 1920's, they were a wedding gift to Elsa,  Karen's mother.  Upon her engagement, Elsa's future mother-in-law directed her to Tiffany & Co. of New York, known then as "the purveyor of luxury items."  Elsa was directed to choose her silver pattern there, a task which she relished.
Just after the wedding the service for 12, including everything from the basic setting to fish forks, butter knives, serving pieces, and more, arrived at Elsa's new home beautifully monogrammed with the appropriate "B".  But it was not the silver pattern she had chosen!
Upon alerting her mother-in-law about the error, Elsa was told that in fact there was no error, her MIL had selected "a nicer" design!
Elsa, always the perfect lady, just smiled and offered thanks for the gift.  But in quiet rebellion, she refused to use the silver for any meal but those at which her in-laws were present!  I'm guessing that they were infrequent guests.
Elsa's only child,  Karen, who preferred farm life with her husband, never used it.  Elsa had no grandchildren and always showered Rebecca and her brother with love and gifts as if they were her own.  Godmother Karen decided that Rebecca was a perfect recipient for Grandma B's monogrammed sterling.
So the rarely used flatware became Rebecca's oldest and most extravagant wedding gift, one with an entertaining history.  This second bride treasures that silver gift along with many sweet memories of Grandma B.  One of her favorite 5 yo recollections is hanging a May basket on Elsa's door, ringing the bell and hiding in the azaleas with her 9 yo brother so they could see Elsa's (forewarned) "surprise."
The retired kindergarten teacher, with her white curls and wire-rimmed spectacles, looked and played her part beautifully.  She stood in the doorway of her wooded cottage wondering aloud.   Who had decorated these beautiful paper cones?  Who had delivered them filled with freshly cut flowers at dawn?  The faeries?
That's when Ryan and Rebecca rushed out of the bushes for hugs and a few freshly baked cookies that Grandma B just happened to have on hand.  Ahhh, those long gone sweet days…..and that long gone precious woman.
When you sew, do you stroll down Memory Lane, as I have done with this project?  Things we have sewn both create and recall precious memories.
"Memory is the diary that we all carry with us."  Oscar Wilde
Disclaimer:Â  I am required to inform you that I am a paid "sewing expert" for Brother.