The opportunity to post a White Wednesday blog along with others at Faded Charm motivated me to plunder through my handkerchief collection again.  As I said in an earlier post, there are few genres of needlework that include so many wonderful techniques as handkerchiefs.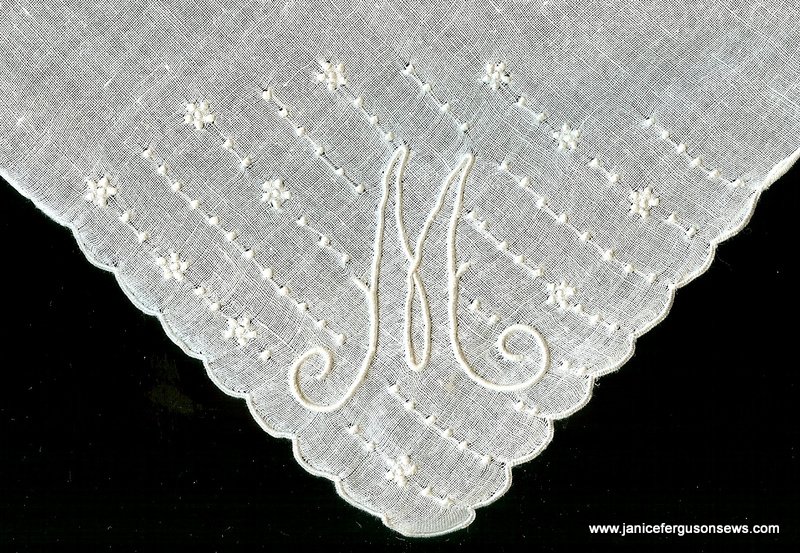 In a relatively small area, spectacular stitching is often combined with extraordinary edgings.  These beauties are tiny treasures.
Note the unusual shaping of the linen and the delicate handmade edge.
This small silk organza hanky is one of my favorites, though it would be pretty useless if you had a cold.  The drawn thread work is as delicate as the fairy weight lace edging.   I wish you could see how fine this thread is.
The woven leaf border adds extra interest to this one, not that it needed it.  The surface embroidery has a sheen  that suggests silk thread.  The bow is shadow work.
Each of the other three corners is embroidered with this coordinating design.  When purchasing heirloom hankies, I always give special consideration to those with embroidery on all four corners.
The width of the elaborate lace and its graceful shaping into the linen makes it  likely that this is a wedding handkerchief.
This has been stashed in one of my handkerchief boxes for about 15 years.  I've always like personalized linens and the way the name was worked into the drawn thread ground seemed to make it extra special.  I had none quite like this.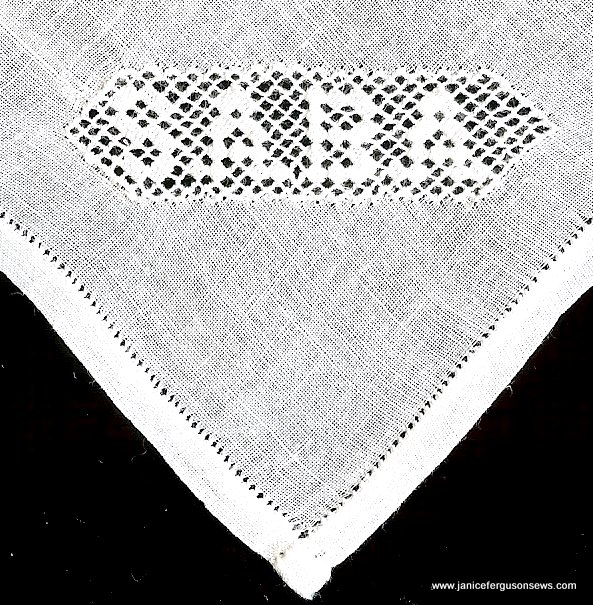 I was just delighted when I opened it and saw SABA woven into the opposite corner.  I had assumed it was a last name!  But after posting a blog about my brother' gift of a Saba lace tabletopper and a book on the topic,  I enjoy it even more.  The Saba lace story is a fascinating read with an interesting look into women who support their families and local economy with cottage industries.
Ladies of yesteryear made bags and containers for everything from lettuce to pajamas.  Of course, there were handkerchief keepers.  This one belonged to the mother of a dear friend of mine.  Her mother had told her that cases such as these doubled as veil cases.  Who knew?
There are more hankies in those boxes.  I'll pull out more if you would like to see them.
If you have a special hanky you would like to share, please send a photo with some information about it.
Happy White Wednesday!